The marketplace at the Black Sheep Gathering was simply breathtaking. Everywhere I looked, there was more texture, more color and more beautiful things. Wool, alpaca, cashmere, linen, cotton, silk, hemp… any fiber you can think of using for spinning, weaving, knitting or crocheting, there was something there for everyone.
When my mother and I got there on Friday morning, I headed straight for the Blue Moon Fiber Arts booth. I knew it would be crowded later in the day, and I wanted a chance to shop it without fighting a crowd. Our timing was perfect, and I dove right in.
I'd been mooning over their
Raven Clan
colors for the longest time, and I had promised myself that if they had any of their Silk Thread in one of those colorways I'd buy some. As if someone were reading my mind, there it was… Silk Thread in Valkyrie. I picked up two of them, 2500 yards of this glorious stuff.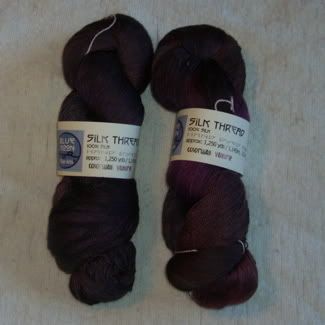 One of my friends at knit night compared it to blackberries.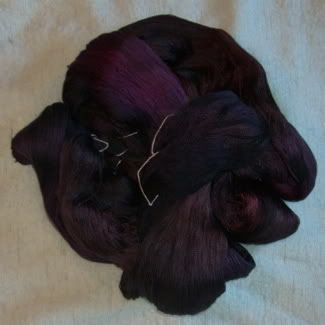 This picture captures the sheen quite well.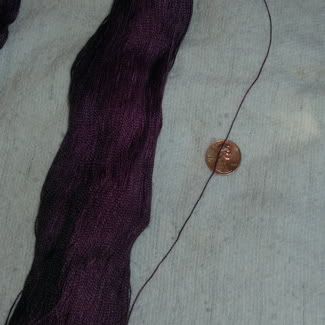 It's incredibly fine.
This is destined to be the
Spider's Web Shawl
(Ravelry link) from
Victorian Lace Today
.
Blue Moon also brought a huge selection of Mill Ends, which don't quite match the rest of a dye-lot. I picked out a skein of lightweight in this sort of berries-and-cream colorway.
I also got some lightweight in Rare Gems, another colorway that just knocks me out. How do they do that?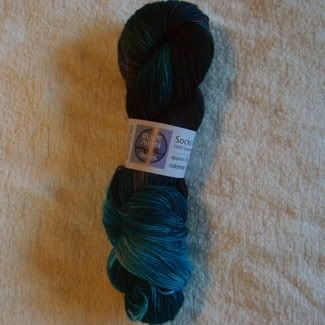 Later in the day, after we'd visited all the animals and told them how lovely they were (they knew that), we found ourselves at the booth for
Skaska Designs
. Lace yarn, lace yarn everywhere.
I got a 100 gram ball of
Yarn Palace Graceful
. The color repeats are long, and the 1800 yards is quite a put-up. Should be enough for a decent-sized stole.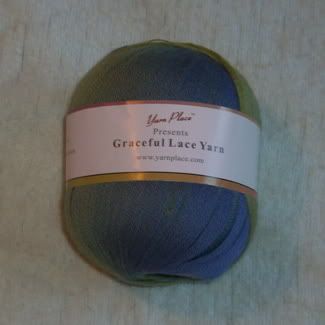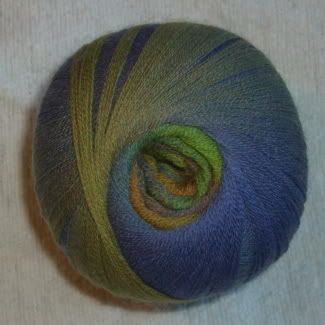 I had told my mother at some point during the morning that if she saw a sock yarn she loved, I'd buy it for her and make her socks… eventually. Now she had even more reason to pick up skeins of yarn. Eventually we reeled into the
Chameleon Colorworks
booth. We were giddy from the color, and the mutual sarcasm was going strong. I am happy to report that the artist is a really good sport, and obviously an old hand at dealing with fiber-drunk customers.
As soon as I saw this yarn, I had a strong feeling it would be the one mom would pick out.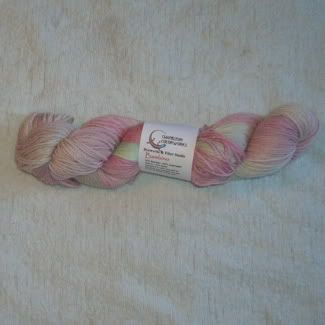 Cherry Blossom, how perfect.
It's called Bambino, and it's a blend of bamboo and superwash merino. It's so soft, and so luscious; it's going to be a joy to work with. I think it'll bloom up beautifully when it's been knit and washed.
I liked it so much I bought some for my own feet, in a colorway called Mourning Dove.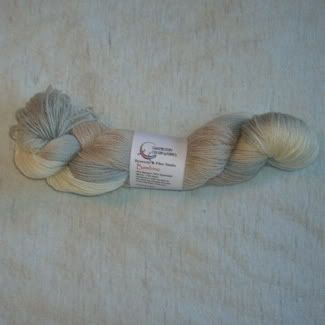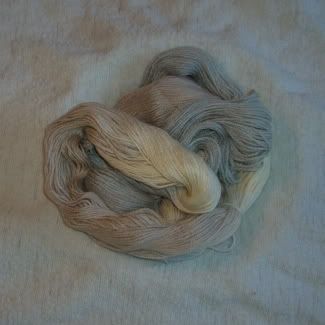 Saturday I was in a lace-knitting class, which I want to blog about separately, so lets just skip that day for now.
On Sunday I took my best friend to the market. These are the kinds of things friends do for each other, right? Take them to fiber events so they get a chance to see all the pretties? Wave exotic yarns under their noses, whisper to them about how impossible it is to find things like this at the LYS?
OK, maybe that was a little mean, but I got her two gorgeous skeins at
Interlacements
and another two at Blue Moon… and I'm not sorry at all.
The last thing I bought at Black Sheep was this skein of
Yarn Palace Heaven
from Skaska Designs.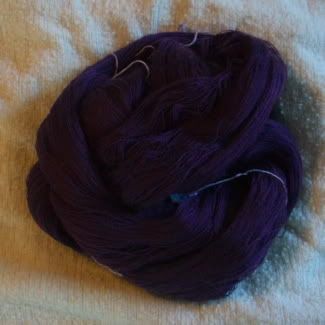 It's a merino/tencel blend, and has a staggering 3280 yards. When I entered it into my Ravelry stash, the database informed me that it's cobweb weight. I got a little light-headed…
I mean, I can remember when sport-weight felt tiny, and here I am with a huge yardage of this teeny-tiny yarn, firmly convinced that I'll be able to knit a masterpiece with it.
Did I mention that it's cobweb weight? Have you ever seen cobweb weight yarn up close and personal?
I'm thinking I'll probably get a good gauge with 2.25 mm needles. I'm probably going to need some new glasses… and a really good lamp.