I went to the
Black Sheep Gathering
last weekend… all three days of it, in fact. It was tremendous, and overwhelming, and tremendous some more. There were two buildings of animals, three buildings of fiber in various forms, all kinds of colors and textures wherever I looked. Really, if you ever get the chance, I highly recommend it.
You get to see lambs…
Such a darling face
and you get to see goats.
Who knew they came in dalmatian?
Some of them even have dreadlocks.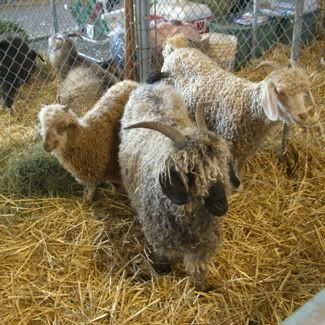 Can I get away with saying "peek-a-boo"?
They get all primped up for their turn in the show ring.
I can't believe they just left me tied here
And some of them are completely uninterested in the people trying to make friends with them.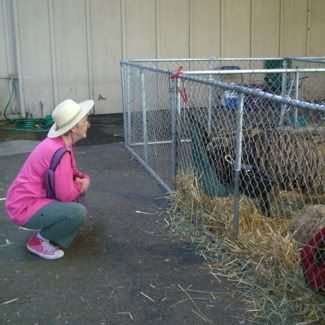 Mom gets a closer look.
I think this guy was for sale, but I'm not sure I could have convinced my husband that he was less trouble than a cat.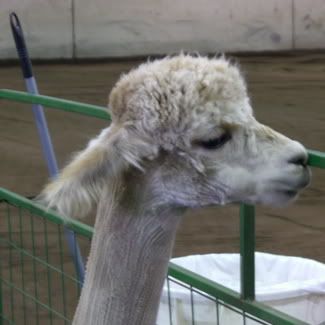 And the yarn… did I mention the yarn? So much yarn, in so many colors and fiber combinations that it made my head reel. It's a good thing there were tables set up outside, every now and then we just had to go sit down and take a break.
Somewhere behind this crowd is the
Blue Moon Fiber Arts
booth. Clever bloggers will go to this booth first thing in the morning, and then they will feel terribly smug when they take this picture…
My mother likes pink… really a lot.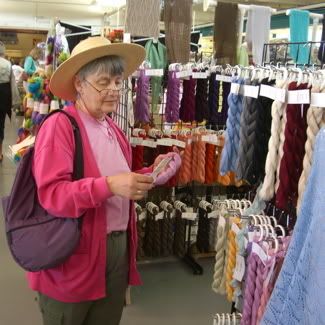 Yes, that's silk and cashmere… for heaven's sake, don't look at the price tag!
Perhaps you have a child who needs entertaining? Get them one of these.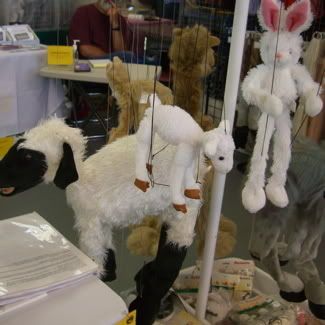 Marionettes look kinda creepy just hanging there.
And, lest we forget about the spinners and weavers, I took some pictures of the Sheep to Shawl competition: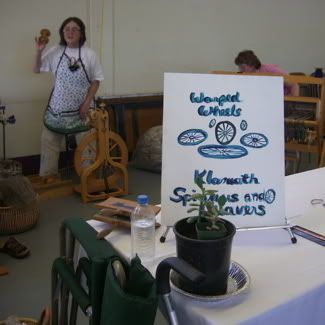 Five spinners and one weaver make a shawl in five hours. Wow.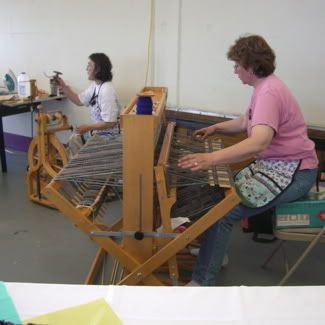 I had a marvelous time. People were friendly and knowledgeable, and nobody got into fistfights over the yarn.
Here's a quick look at what I came home with. In my next post I'll bring you up-close and personal with it.
Such a tease.