It usually strikes me in late spring or early summer. After a long wet winter, suddenly I just can't stand the same routines anymore. Everything looks the same, feels the same, tastes the same, sounds the same…
Eventually I can't take it anymore, I simply have to get out of town!
So I start poking around on the internet for interesting things to see, or begging friends to let my husband and me impose ourselves on them. Last year we went up to Victoria BC, and had a
simply
fabulous
time.
This year, we headed east, out to
John Day
and
Canyon City
. I had visited John Day with my family when I was young, and it made enough of an impression on me that I wanted to go back. Always game for a road trip, my husband got an oil change on the truck, and we were off.
We always seem to road-trip well together, and this journey was no exception. We went up and down mountains, swooping around curves, with me singing along to my iPod at the top of my lungs and him occasionally rolling his eyes to make me skip a song he didn't like. We talked and laughed and did our best to solve all the world's problems. I'm pretty sure we got most of the big ones worked out; we just need to iron out a few details.
We had a lovely long weekend, staying up late and sleeping in, eating far too much, driving hither and yon to see sights and explore. We spent an entire day at the
John Day Fossil Beds National Monument
, but for some reason I haven't uploaded those pictures yet, so I'll save it for another day.
By far my favorite part of the trip was the day we went museum hopping. And the best part of
that
day was spent in the
Grant County Historical Museum
. Oh, what a wonderful place it is! Not only is it filled with all the things you expect to find in a place like that, from mining equipment to two-headed calves (no, really!), but the curator actually encourages you to pick things up. So very many things to see!
Hey
Chandler
, check out this old printing press!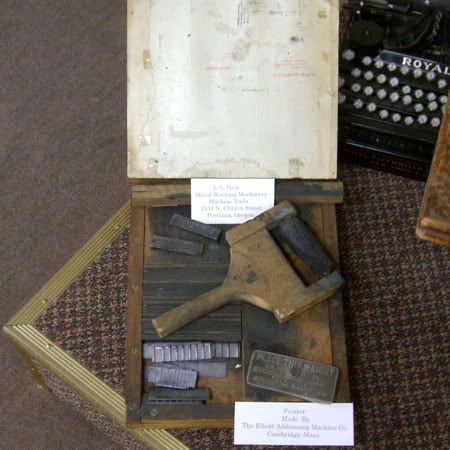 Not surprisingly, I found myself most drawn to the handwork. I could appreciate the work that went into those things, picture my hands doing some of the same things.
This area rug caught my eye and made me think of some rug-hooking friends at home.
This crazy quilt is one of the best examples of using everything you have I've ever seen.
These pieces were made of cotton, and I can just imagine the work that went into them.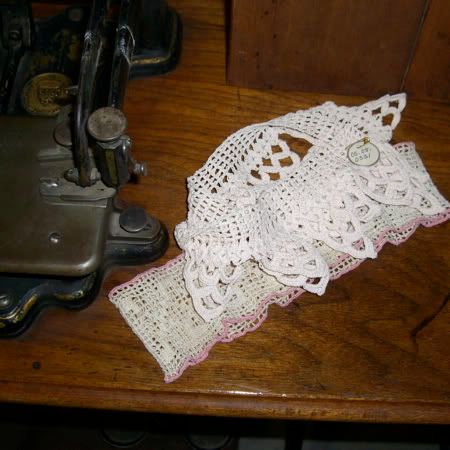 These socks really caught my attention with their very fine yarn and their very tight gauge, which I'm guessing is around 12 stitches to the inch. There's absolutely no way they were knit with those needles!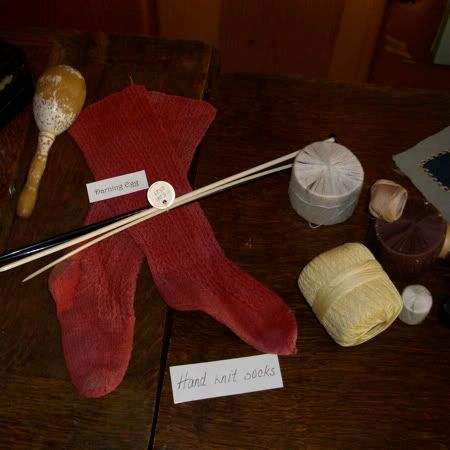 The wool's scratchy as all get-out, but I could see that they'd been well worn and mended several times. They're faded from being displayed in a sunny spot, I'll bet that they were a much more vibrant shade when they were new.
Someday, if I get terribly ambitious and find myself with a load of spare time (hah), I may try to reverse engineer this lace pattern.
I'm going to try getting my life a little more organized over the weekend. I've got photos to take, yarn to put away (if I can find where "away" is), and clutter to sort through.
Up next: I fall down the rabbit hole into another hobby.