I'm actually knitting some.
I have fallen under the spell of the
Monkey
. It's a far simpler stitch pattern than I thought it was; I had it memorized halfway through the third repeat.
I initially started them on a set of 2.5 mm needles, but I thought the fabric was coming out too tight and stiff. So I frogged the sock and started it over with 2.75 mm needles.
Well, then the fabric was a little looser, but the sock was just too big for me. See how far up my ankle the heel flap goes?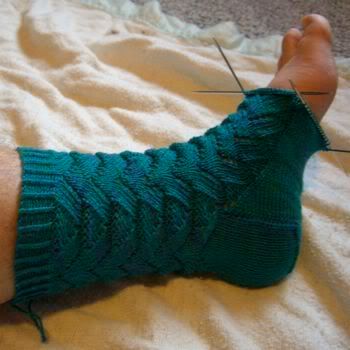 This sock came terribly close to being ripped out altogether, but I was having so much fun knitting that I just couldn't bring myself to do it.
Look at that sock, how could I just frog it?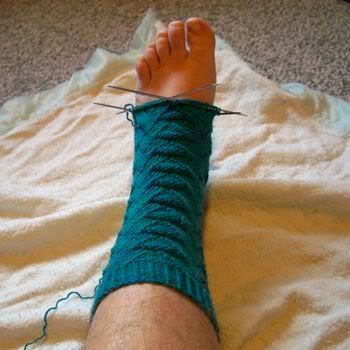 So, since I obviously wasn't knitting a pair of Monkeys for myself… I needed to find the feet I was actually knitting for.
My husband? Nope, our feet are the same size, and I don't think he'd want to wear these under his work boots. He prefers tube socks.
My mom? No, her feet are smaller than mine are; she'd swim in these.
I thought about a couple of my favorite co-workers, but I seemed to recall that the person I had in mind had feet which reminded me of canoes.
I was beginning to feel like Prince Charming. (Mom, I'd appreciate it if you wouldn't laugh yourself silly at this point… I can be perfectly charming when I want to.)
Last week at knit night I had my best friend try on the sock. It fits her, but the foot was too long. After consulting with our resident sock expert, I decided how much of it to rip back, stuck the sock in my bag and resolved to get to it ASAP. It might have been a good idea to actually write that down.
Of course, when I got the sock out of the bag I couldn't remember how much I'd decided to rip. Was it one-and-a-half repeats or two-and-a-half? I decided to play it safe, ripped the smaller amount, put it onto some 2.25 mm needles, and started the second sock.
Teresa, for heaven's sake, bring your feet over here, I need to measure them again!