There it went, another week I'll never get back. To tell the truth, I'm not entirely sure what happened to me…
Wait, that's not precisely true. But a full explanation of what happened to me would inevitably degrade into a long moan about my workload, traffic, over-heated commercialization and a fond dream of running away to Belize with the
Yarn Harlot
.
I'll just say that I've been busy and leave it at that.
It's amazing what can happen while I'm too busy to notice, though.
The world will continue spinning around the sun, wine will still make a good evening even better, and narcissus bulbs will sprout in a darkened room.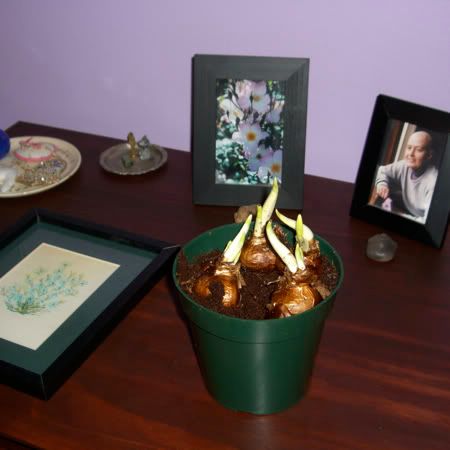 Week Two
Here in the Northern Hemisphere today is Winter Solstice. The very shortest day, followed by the very longest night of the year. When I get home tonight, I'll light a candle and leave it in a sheltered corner of the patio overnight.
I do this every year, hoping that the sun will be intrigued by the flickering light and come to see what it is. Perhaps it will find things interesting enough in my part of the world that it decides to come visit for just a little longer every day.
I've been doing this for years now, and the results have been consistently good.
While I wait to see if my ploy works again this year, I shall water my narcissi.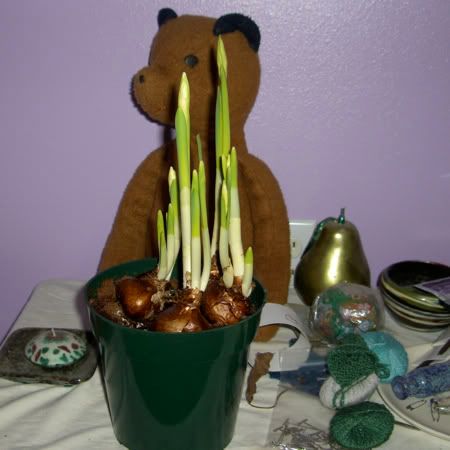 Week Three
I wish you all a Happy (belated) Hanukkah, a Blessed Solstice, a Bountiful Yule, a Merry Christmas. Whichever calendar you use to mark this season, may it be filled with joy, with happiness, with laughter, with peace and with love.