So many things to do and not nearly the proper time to do them! Story of my life, and I'm sure it's the story of your lives as well!
I had a birthday just over a week ago. Another trip around the sun, I can hardly believe it's gone so quickly!
My sweeetie took me down to a little tiny yarn store in Creswell called
Mountain Shadow Ranch
on the actual day of my birth. He took a book and settled himself in next to the wood pellet stove... I spent money.
Louet Euroflax Sport in Eggplant
I'm not sure what this is going to be, but how could I resist this color?
Three balls of Frog Tree Cotton/Silk
Again with the purple. Seeing a trend here? I'm thinking that this will be a wrap from one of my Interweave Knits magazines, the name of which escapes me at the moment. It's so very soft!
A ball of Southwest Trading Company Bamboo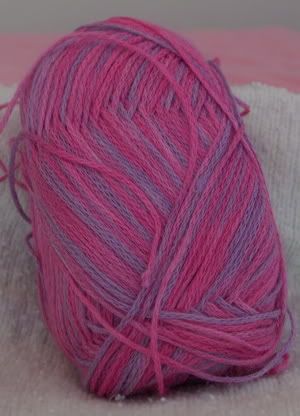 Tuck-in scarf? Ascot of some kind? I just don't know!
And a ball of TOFUtsies in the October colorway
Socks, what else?
On the Monday after the birthday, I took my mother and best friend with me to Sisters, OR to visit
The Stitchin Post.
It's a combination of quilting and yarn/knitting/crochet. Since Mom's a quilter and my best friend's a crocheter, there was something there for each of us.
On the way there we stopped at
Sahalie Falls.
This is one of the more spectacular things that the MacKenzie River does on its way through the Cascade Range, and a Must See on any trip through the mountains.
The rainbows are fantastic, you can see at least one wherever you're standing.
Here's a look at the waterfall through a young tree.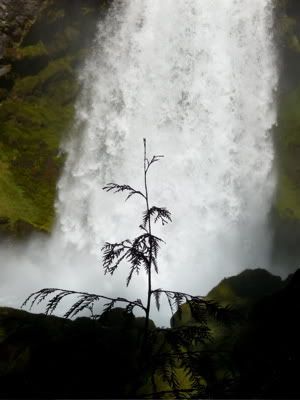 And finally here's an old snag. You can see that there's snow on the ground.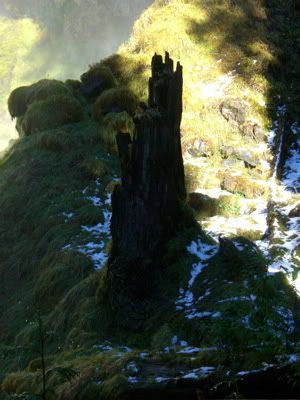 Here's what I got at the store: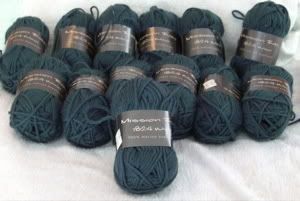 13 balls of 1824 Wool in the loveliest shade of teal. This is destined to be the Notre Dame de Grace Pullover from the Fall Interweave Knits.
Not pictured here are the tabletop swift from my mother and the ball winder from my husband. Be still my heart!
All in all a very nice birthday indeed. Plenty of time with family and friends, and also plenty of time to look back and reflect on the past year. It's really been a doozy, what with a bit of job stress at the end of the summer and coping with the dissolution of an on-line community I'd grown to cherish. Fortunately we've found other places to be together, and so the internet friendships continue.
To all of my friends who've been with me through the good times and the tough times, all I can say is thank you for sharing the journey with me.
Merci, merci mille fois