I have a new friend.
Tinkingbell
had a
contest
a while back, asking us to tell her about our favorite Science Fiction/Fantasy, and to my great surprise, I was one of the winners.
My package arrived at work while I was away on vacation. It was waiting in my in-box when I got in, and I ignored no less than 150 e-mails (honestly, 150 in two weeks?) to open it up and get photos.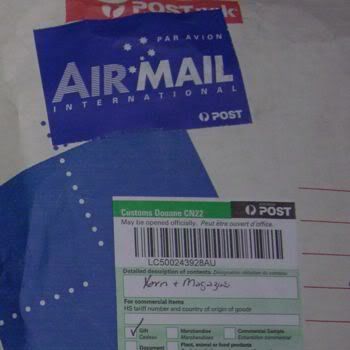 For some reason I love Air Mail stickers… don't ask me why.
What was inside was far far better than the stickers.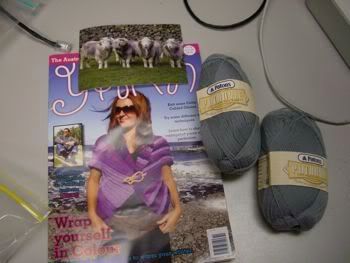 There was a copy of
Yarn Magazine
, issue 10. A postcard with some of the loveliest sheep you've ever seen in your life. And two balls of
Pattons Australia
Patonyle, an amazingly soft sock yarn, which Tinkingbell tells me wears like iron.
She wrote:
Australian Patons (not related to US Patons) have always made Patonyle - my first pair of socks ever were made of bright yellow patonyle and have gone on for more than 7 years!

Several years ago they started only producing bleuch colours or fakeisle and sales dropped off, so the then manager decided (as his last act in Australia) to discontinue Patonyle. The new marketing manager for the group joined Ravelry and faced a barrage of complaints - constantly - from the entire Australian Knitters group (1100 of us) but also from every LYS and all the little old ladies who had been using it for years and years. after 6 months of us moaning they gave in!!

Patonyle is being re-launched - hopefully with new colours and as an export line! - You have some of the pre-recontinued Patonyle - great stitch definition, soft and very hard wearing!
I'm so excited to have new yarn to try… although mercy knows I was in no danger of running out of sock yarn!
Inside the magazine was a short article by my benefactor.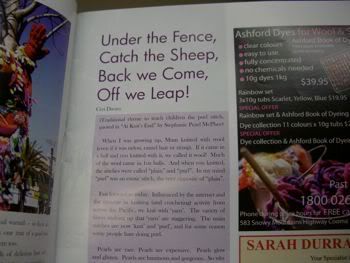 She writes about the virtues of the purl stitch, and her confusion about purling-hate, which is a sentiment we have in common. I don't know where it comes from, or why people seem to dislike it so very much.
I took the whole package to knit-night with me on Monday, and passed it around to the sound of much ooh-ing and ah-ing. (It's small of me, I know, but I
do
like inspiring envy sometimes.)
So there you have it. A package which traveled from one hemisphere to the other, from winter to summer, from one knitter to another. Once again I find myself marveling at how small the world can look through the prisms of knitting and the internet. If someone had tried to tell me four years ago that not only would I be purchasing outrageous quantities of very fine yarn, but establishing friendships with people all over the world, I would have laughed myself silly. How things change.
Thank you, Tinkingbell, so much.