I'm leaving home today to travel about five hours north for a week-long server configuration class. I hope to be a certified über-geek by Thursday afternoon when the class ends, and I'm very excited.
I'll be away from home for six days, so there was some packing to do. When it was all done, I stepped back and took a look. Then I had a good laugh and dug out my camera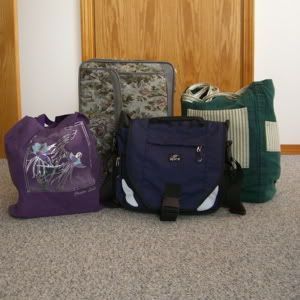 I can't be the only one who does this.
My bags, from left to right:
Purple bag: Books and a throw blanket (I get cold easily, what can I say)
Suitcase: Clothes and toiletries.
Blue laptop bag: Laptop, iPod, camera, DVD's
Green striped bag (notice that it's the biggest one): knitting.
I think I've got five WIPs in there, but I'm not positive. This is what happens when my husband isn't home to ask me why I'm taking that.
At least I know I won't get bored!