Something strange has happened in my knitting bag.
Every single project in there is red. Not just a
little
red, or red-
ish
, but really-very-extra-red.
It's not that I loathe or despise red, it's just not a color I have very much of. I tend more towards to cool side of the color wheel. My stash is mostly made up of blues, greens and purples, and those are also the prevailing colors in my house.
But by some strange twist of fate, all of my current knitting is red.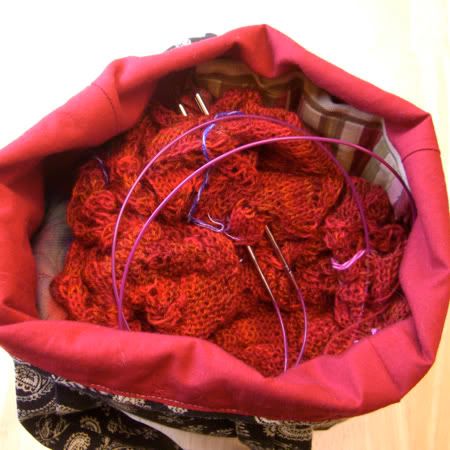 This is Centrino, aka The Big Red Blob. It's a
Year of Lace
project, and one of the few certainties in the universe is that if you subscribe to a club there will be at least one shipment which is a color you never reckoned on sharing house space with. This yarn made me blink hard when I opened the package, but it's certainly grown on me.
Then there's this: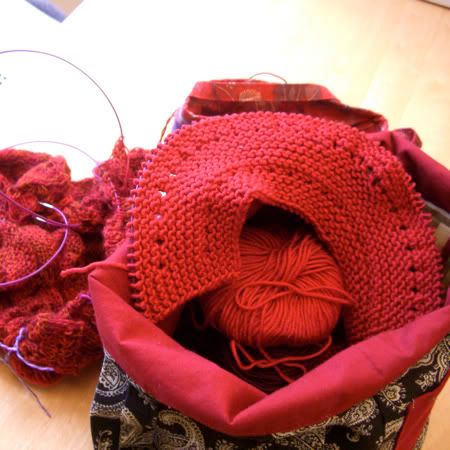 This is the nearly completed yoke of a February Baby Sweater, in Geranium. When an expectant mother requests a color, one does not quibble. One goes to the LYS and finds it. This baby is going to be visible for a good long distance, that much is for sure!
Oh look, there's another red down there. But I can't show you the project. It's a Super Secret Sock Test for a friend who wants to submit the pattern for publication. All very hush-hush, dontcha know! But I can show you the yarn.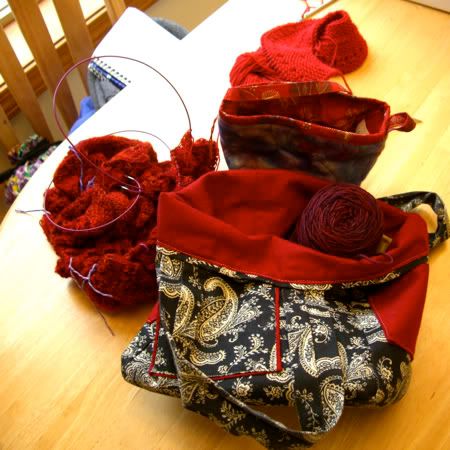 That's some
Dream in Color Smooshy
, colorway In Vino Veritas. I bought this during the summer, praising myself all the while for stepping out of my blue-green-purple world. (Isn't it funny the things we tell ourselves to justify buying more yarn?)
I'm enjoying all of my red these days, the yarns, the patterns, the way there are so many
different
reds in there. I'm beginning to think that I haven't been giving red the attention and interest that it deserves, and I may have to remedy that on my next few trips to the LYS.