It's ironic how much time it took me to edit these photos, considering that I only shot about 30 of the silly things in three days. Note to self: lighten up a little bit!
The retreat was everything I could have asked for. The company was great, the food was (over)abundant and the weather even cooperated. There were 16 (17?) of us sharing the house, and I can't remember the last time I got so much knitting done!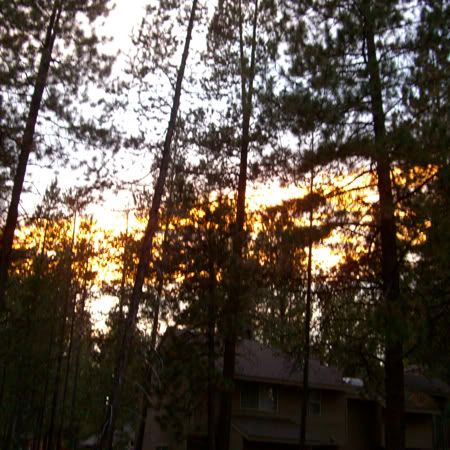 I shot this off of the back porch on Thursday night. There it was, the perfect evening. Tall pines, whispering winds, a beautiful sunset… and a kitchen counter covered in bottles of wine.
This is what the living room looked like when meals were announced:
A piece of advice for the uninitiated: do not stand between the spinners and the kitchen when there's food in there!
Friday a few of us went for a walk. We went slowly at first, harvesting lichen for dyeing with.
As we were circling around the golf course, we came upon a small herd of deer.
Mind If We Play Through?
I baked a
Tres Leches Cake
on Saturday afternoon, and you would not
believe
the amount of grief I took while it was sitting on the serving platter absorbing its milk bath.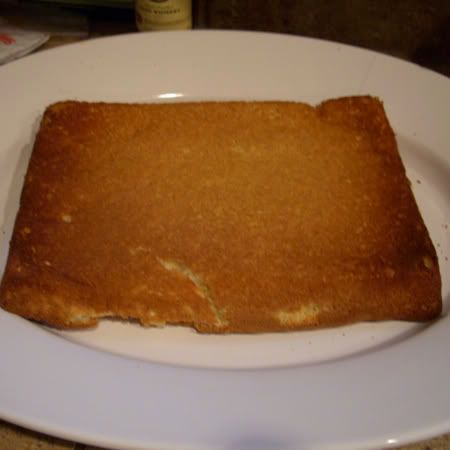 Naked Cake!
Then I covered it in whipped cream and toasted coconut… they quieted down after that.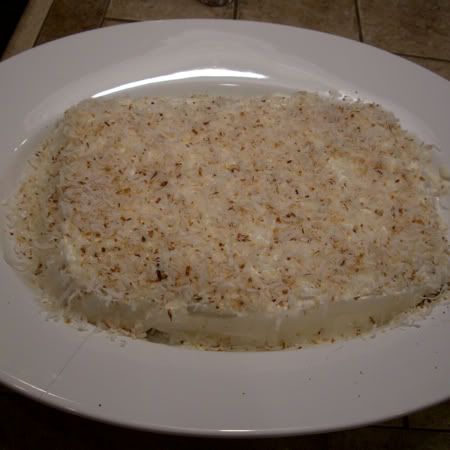 I got so much knitting done it makes me regret that I have to go to work most days.
I cast on for a
Braid & Bobble Hat
, although mine will be
sans
bobbles, because I think they're an abomination. This pattern comes without charts, so I took an evening a couple weeks ago and drew my own.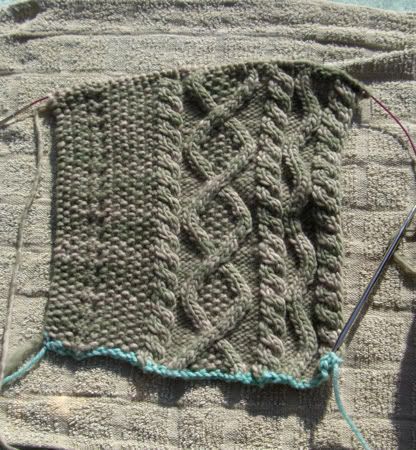 The brim is knit flat and seamed. Then I'll pick up stitches and knit the top in the round. I'll have to wait and see if there's enough yarn for the braid, but it'll work just fine either way. I'm using
Malabrigo Worsted
in the Vetiver colorway, and I'm completely in love with it.
I also started the third installment of Year of Lace. May I present Centrino. Designed by
Laura Nelkin
, knit with with
Schaefer Yarn Company Anne
, a 3-ply light fingering, on size 5's.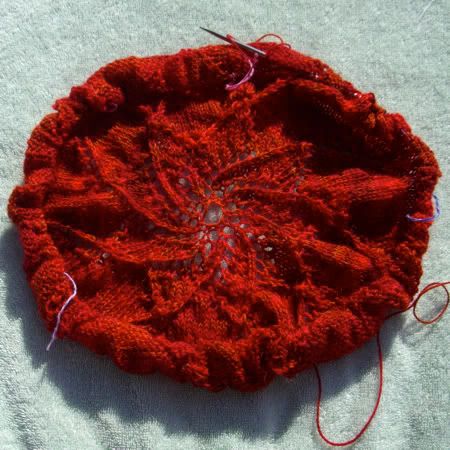 Oh, did starting this ever give me fits! I ripped back five or six times before it finally occurred to me to rest the knitting on a pillow in my lap. That way I didn't have to worry about the needles falling out or spinning around as I worked those first few fiddly rounds.
I was so glad when this got big enough to move onto a circular needle…
Alwen
, how do you do it?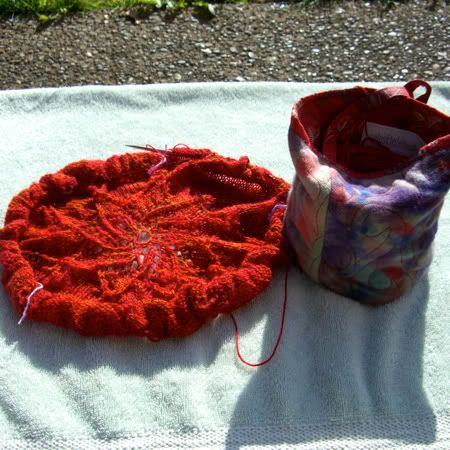 Yarn bag by Celestial Fiber Arts
On Sunday I finally gathered up my courage and decided to go from being a reasonably accomplished knitter to a laughably inept spinner.
Rovings
, one of the vendors at the SOAR marketplace, was selling Polwarth fleece… and of course she was giving out samples too, just like any self-respecting vendor of highly addictive substances.
A friend was kind enough to surrender her spinning wheel to me, and patient enough to coach me through my first spinning. After much laughter, a certain amount of muttered cursing and quite a few admonishments from the entire room to
slow down
, I produced these: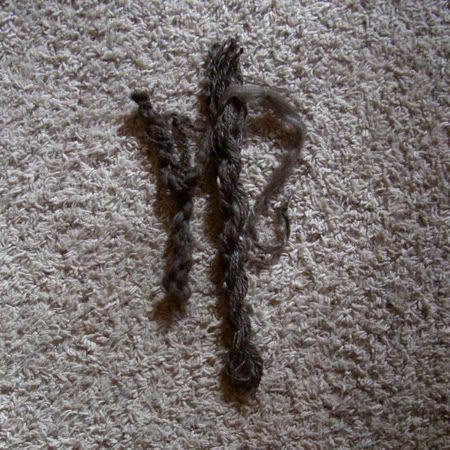 On the left is 100% Polwarth, and on the right is a Polwarth/Silk blend.
I have this terrible feeling I may be rearranging my living room sometime in the next little while, trying to find room for a wheel and fiber. Because I obviously need another hobby, right?