There are mileposts in my year, events that tell me that a given season has well and truly begun. When the crocuses bloom, I know that winter is loosing its grip. When the tomatoes arrive at the farmers market, it is high summer without a doubt. When the apples begin to be turned into cider fall has begun and harvest is in full swing.
And, when
The Saturday Market
opens, spring has most certainly sprung, rain and wind notwithstanding.
It was the perfect weekend to go to market… and it seems that I was far from being the only person who thought so.
Oh, the handcrafts!
Crocheted bags
Fuzzy Pink Hotpants
Mom tried to convince me I needed a pair of these… I told her that pink is one of
her
signature colors. Since we were unable to agree whom they should come home with, the pants went back on the rack.
Crafter in the Wild
She's knitting another one of these hats. Lovely cheerful things, felted to help keep your head dry.
Anna's Bag* Meets The Hats
Tie Die is still a treasured form of expression…
Anna's Bag Meets the Tie Die
…and anything is fair game for the dye pot…
…even shoelaces and underpants.
More handknits:
Are Those Horns or Ears?
Fruits and Veggies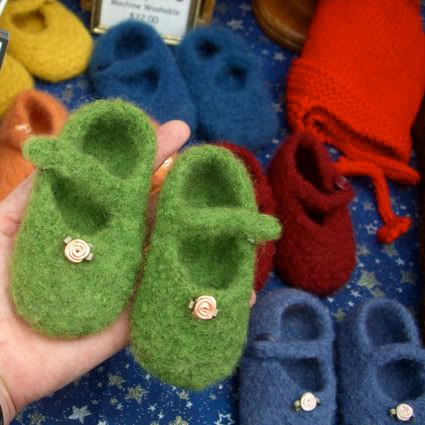 Felted Booties with Satin Roses
There are costumes to feed your imagination. Multicolored wings, sparkly skirts, and even magic wands.
I need to talk to this vendor some time about some adult-sized wings…
Hand-dyed yarn… on sale. I didn't even put up a token struggle.
There are a multitude of hand-made bags, but none of them is as pretty as mine.
Anna's Bag Meets Some Cousins
Things get rather crowded in the food court. Somewhere in here is my favorite lemonade stand.
There's a wee boy in this backpack, you can just see his chubby little fist clutching the pink balloon animal. He was completely captivated, whether by the tie-die, the headpiece or the balloon twisting I've no idea.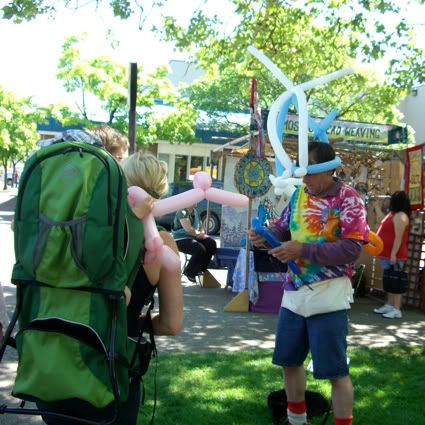 Spring is most certainly here!
*For the backstory on Anna's Bag, see
this
post.