My friend
Anna
is a blogger as well. She's a wonderful writer, and she blogs much more consistently than I do. I aspire to blog as well as she does, but for now I do what I can. To celebrate her 100th blog post, Anna had a contest on her blog a few weeks ago, and the prize was a fabulous bag that she'd made.
I was
astonished
when I read that I'd won, absolutely floored. I can't remember the last thing I won. I never win things like this. I don't win raffles, I don't win door prizes... well, not until now. I gasped so loud when I read that I'd won that my husband came into the office to be sure I hadn't hurt myself.
When I got home from work yesterday, there was a box sitting on my front porch. When I saw that it was covered in paperwork, I knew what it was. I did a little excited dance, brought it inside and borrowed my husband's pocket knife.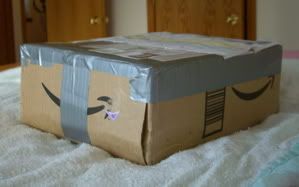 Duct tape really does hold the world together.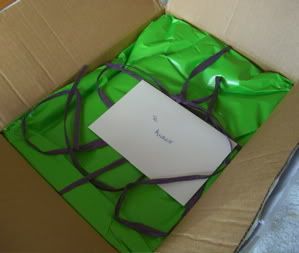 Cards... I love cards
This cat has it all. That collar he's wearing has a fish on it.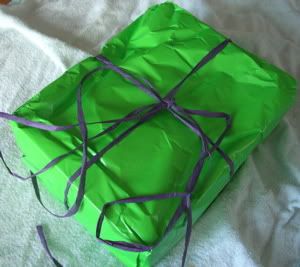 Oooooh, pretty.
That purple ribbon you see? It's this lovely textured crinkly paper tape. The magpie in me insists that I must keep it forever. It's too pretty to just recycle it.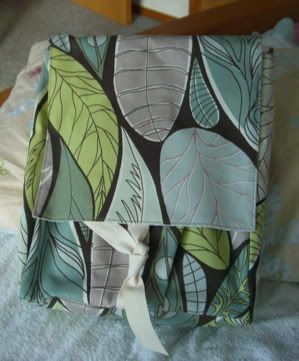 This is the front with the top tied down...
...and this is the top untied and opened.
There's a little pouch in front.
Hey, there's something in it!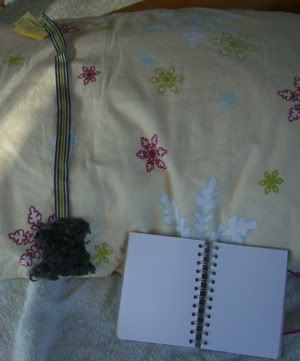 There's an itty bitty notebook, perfect for noting down where you stopped in a pattern, and there's also a bookmark. It's got some wool on it from a breed of sheep originating in Gotland. I read a lot, this bookmark has come to the right place.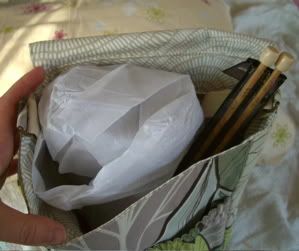 Are those knitting needles?
Why yes, yes they are.
This yarn... I swoon before it's loveliness. Anna tells me it is dyed in Landskrona, about 50 kilometers from where she lives, by a company called Vikan (We Can). The dyelots are very small, only 1 kilo of yarn per batch. That means that there are only 4 other hanks of yarn just like this one. It's very soft and the color is semi-solid.
There's also a pair of 6 mm bamboo needles from
Garnstudio
. Light and warm and brightly polished, and they make me want to cast on
right now
.
Zippered pocket.
There's a small zippered pocket in the back, and the fabric the bag is lined with is a great match for the rest.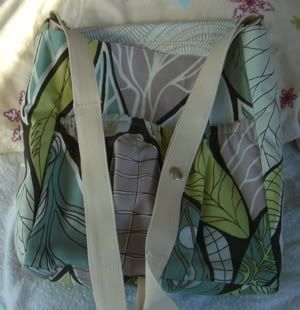 Adjustable strap.
Oh my...
It's a beautiful bag. All the little details are there, and I can't wait to pack a little knitting project into it and take it out to show it off.
Anna, thank you so very much. Your craft skills are superb, you color sense is outstanding, and your generosity is humbling.