People never fail to amaze me, in ways great and small. Sometimes, of course, I am amazed by how bad they can be, but most of the time I am amazed at how kind and generous they can be, in ways both large and small.
Let us take, for today's example, m1k1, who blogs at
A Little Bit Crafty
.
After I posted
this
piece last month, expressing my surprise that my friends hadn't sent me chocolate in the mail, she left me a comment offering to pick me up a little something from
Haigh's Chocolates
. (Good heavens, I just spent the last fifteen minutes browsing that site… I think I gained three pounds! Lucky for me they don't ship.)
Yes-please-and-thank-you-very-much, I said. (Really, who could resist such an offer? Someone who is not I, apparently!) Then I had
two
reasons to stalk the mail carrier. Poor guy must just dread driving down our street…
In due time, this arrived in my mailbox:
And inside were these:
A Caramel Koala, Lindt dark chocolate and mint, and 280 grams of Haigh's Dark Chocolate with Orange. Also recipe for a tart, which I simply must make, and a fact card about Haigh's helping to save the bilby. (Just look at the nose on that darling wee thing…)
But wait, what's this?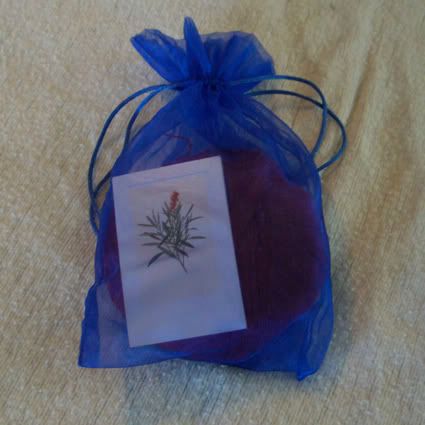 It looks like yarn!
Lace yarn!
Yubina Cashmere
lace yarn, 500 beautiful red yards of it. I was deprived of the power of speech, which people who know me will find hilarious.
I dashed off a sputtering e-mail of thanks and utter joy (Cashmere!!! You sent me cashmere lace-weight!!!). In response, I got a message from m1k1 telling me "I got a tad carried away when I was ordering, and was hoping some of it would find a lacy home somewhere."
I do solemnly swear: to give the yarn a good home, to find the perfect pattern for it, to do my best to surprise people with generosities both large and small.
I do
not
, however, swear to share the chocolates…