The mailman didn't deliver any packages to me this weekend. In fact, the mailman delivered nothing but bills this weekend. I need to have a talk with him about that. I mean honestly, the least he could do is deliver all the chocolate my friends have been sending me.
What's that you say? You haven't sent me any chocolate?
Well then, maybe the mailman is off the hook. I suppose my package has been distracted by pretty scenery… It's probably gazing awestruck at a field of grape hyacinth. I understand, it happens to me frequently this time of year.
Obsessive checking of the mail aside, there's actually been knitting going on around here. And, for a wonder, it is a glorious sunny day, so I actually have pictures as proof.
Here's the yoke and body of the Blue Spruce Cardigan.
I'm through nineteen lace repeats, and I really need to try it on before I go any further. After the trauma of frogging the entire yoke, I'd really rather not have to rip again!
Here's a close-up of one of the increase lines.
I purled the central stitch on the return rows to emphasize the line, a trick I saw on someone's Baby Surprise Jacket. I like the way it sets the mitering off.
And here's a good look at the Gull Lace pattern
It's a very simple seven-stitch four-row repeat… which of course means that every now and then I embarrass myself by doing it wrong. I'm getting really good at dropping down a stitch or two to get things lined up correctly.
There's also lace knitting of the non-cardigan variety. I was getting ready to take a trip to a retreat last month and I wanted to take along enough projects so I wouldn't get bored. As I was poking at my sock-yarn stash, I could hear the lace-yarn mocking me from the other end of the container. Don't look at me like that… I'll bet your stash mocks you sometimes too!
OK then, I decided to actually knit with some of it! Rather than take the time to run the lace stash through the randomizer, I did the next best thing… I shut my eyes and grabbed.
I came up with this: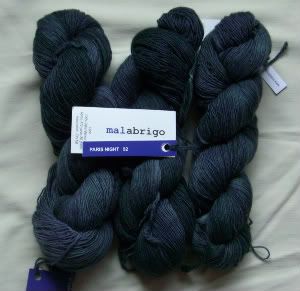 Malabrigo Lace in Paris Night
It's a single-ply baby merino, and it's just about the softest thing I've ever touched in my life. I paired it up with the Cherry Leaf Shoulder Shawl from Victorian Lace Today, which was designed for fingering weight yarn. I've got no earthly idea how big it's going to be, and to tell the truth I don't really care.
This was taken with 206 rows completed and that mean that there are… 19 x 12… carry the one… add the border stitches…
That means there are 247 stitches currently on the needles… with just under one skein knit. Soon I'm going to have to move to a longer needle!
It's a fun knit, surprisingly intuitive after the first few repeats.
The irony of knitting a lace shawl while I'm waiting for a shipment from a lace club does not escape me. In my own defense, might I be allowed to say that I cast this on before I knew about the birthday gift?
My husband must have been laughing into his beer the night I cast this on.