Poor neglected blog, how lonely you must have been. Mea Culpa.
There are all kinds of reasons why I haven't written in so long. Most of them are of the boring variety, and I will not tax you with them.
It finally occurred to me that I'd best break out of this slump and get back to writing before I forget how. So, here's some randomness.
It's my anniversary today. My husband and I have been together for 17 years. I love you sweetie, more than I can possibly say. Here's to many more years of map reading and laughter, of motorcycle trips and good food, of snuggles on the couch and inside jokes.
My family celebrated Thanksgiving last Thursday, with a wonderful meal, a bottle of wine and two pies. My absolute favorite holiday, and this year was one of the best. I'm thankful for my family, for my friends, for my knitting and for my health.
There
is
actual knitting going on around here. There's also lots of rain and a serious shortage of good light. So it will be difficult to show you the knitting, but I'll give it a shot.
I took myself to the LYS a couple of weeks after my birthday. I bought yarn, and for a wonder it was neither lace-weight nor sock-yarn. I know, shocking.
It was this: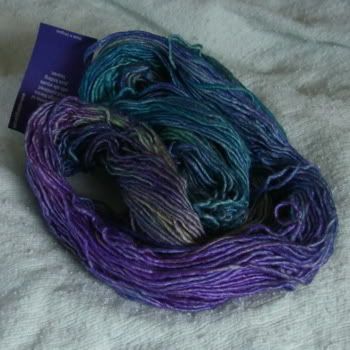 Three skeins of
Malabrigo Yarn Silky Merino
in the Indiecita colorway. I'm thinking of a cowl for this, something deep and luscious to snuggle down into. Or I could just tie the skeins together and wear them that way. It'd save time, at any rate.
My mother got me two balls of Knit Picks Essential in Jester Multi for my birthday. And a set of Harmonies sock needles. And a set of Harmonies interchangeables. And she sewed me needles carriers for all my DPNs. Am I spoiled, or what?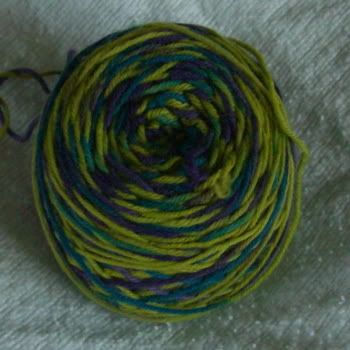 I cast on for a pair of socks almost immediately. Very basic: CO 64, work K3, P1 to desired length, do heel of choice, work foot to desired length, do toe of choice.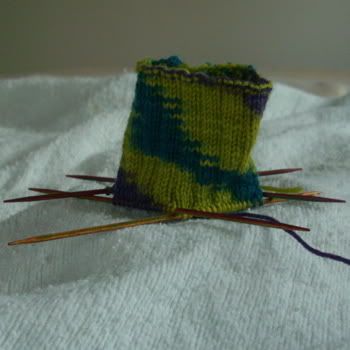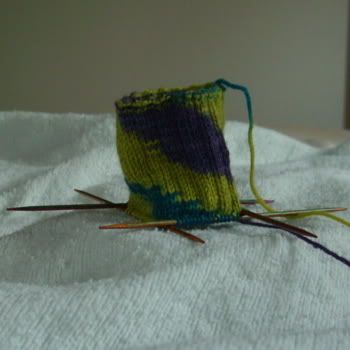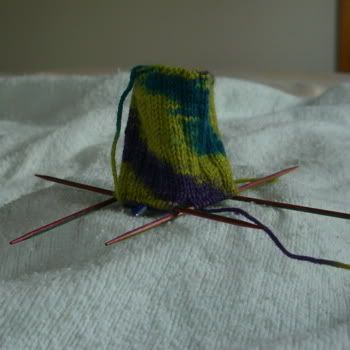 I must plead lack of good light and ask you to imagine that there's another picture of the leg, which is now seven inches long. The first sock is on hold on spare needles for now while I work on the second sock leg. I'm so pleased with the way this yarn is creating ribbons of color, and I don't want to mess that up with all the extra stitches of a gusset. So I'm going to do a short-row heel which I hope will vex me a bit less the second time around.
I'm still working on Mystery Stole 4 but progress is slow as it's not the kind of mindless knitting that I can do when I'm tired. It goes in fits and starts, but it does go. Perhaps I should cast on a lace smoke-ring so I have something to show for the Long Lacy Summer.
OK, I think I remember how to write… I wonder if I can remember how to write more than once a month?