Deadline knitting makes me crazy. I completely suck at it. I moan and flutter and procrastinate. As Douglas Adams once said:
I love deadlines. I especially like the whooshing sound they make as they go by.
I stand in awe of people who give tons of knitted Christmas gifts, and every year I laugh with the Yarn Harlot as she relates her personal Christmas marathons.
I will, however, make an exception for birthdays. Personally, I like birthdays better than Christmas anyway. So much less pressure, and all the focus is on one person.
My stepfather's birthday was at the end of September. I gave him a gift certificate for a hand-knit hat, because the day had sort of snuck up on me. I know, I know, it's the same day every year… did I mention that I suck at deadline knitting?
I made him a Turn A Square hat with two colors of Noro Silk Garden that my mother picked out. This is really a quick and easy knit, and the Silk Garden knits up into the most
amazingly
soft fabric.
I frogged my first start, because the join was just too ugly to ignore and I decided that one inch of ribbing just wasn't enough. I nearly frogged it again when I realized how big it was turning out, but my mother assured me that it actually fit the intended head.
So I kept knitting, ignoring the little voice in my head.
Little Voice: "It's big."
Me: "I know… shut up, wouldja? This hat is late! Mom says it fits!"
Little Voice: "Look at that, it's ginormous!"
Me: "La la la laaaaa… can't hear you!"
I made it far longer than the pattern called for, going nearly seven inches before I started the decreases. Joe wanted a hat that would keep his ears covered, and I figured that a hat that nearly came past my nose would probably do the trick for him.
I cut it pretty close with the main color.
But oh, it was
so
pretty once I got it off the needles. Gave it a good long bath in some
Soak
, then a few whirls in the salad spinner. Then I stuffed it full of kitchen towels to dry.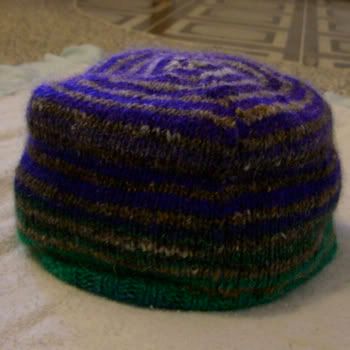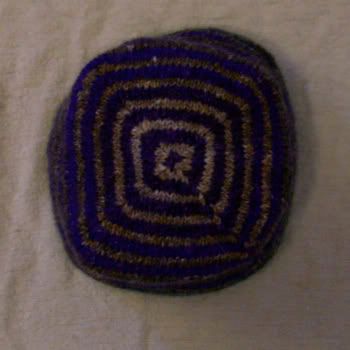 I finally gifted the hat on Saturday, nearly three months to the day after Joe's birthday.
When he first tried it on I said, "Oh no, it's too big!" As if I'd been ignoring the little voice in my head or something.
He says it's just right. It's bigger and slouchier than I think Jared intended but it will certainly keep his ears covered.
And just look at that smile!
So, while it may be true that I completely suck at deadline knitting, at least I can say that it was worth the wait.
Happy [belated] Birthday Joe!
Project Details:
Pattern:
Turn A Square
by Jared Flood
Yarn:
Noro Silk Garden
, colorways 8 (main color, 122 yards) and 267 (contrasting color, 73 yards)
Needles: US 4 (3.5 mm) and US 6 (4.0 mm)
Embarrassing Time It Took To Finish: October-December 2008