Excuse me, have you seen my hat?
I knit it with my own hands. Out of this Berroco Ultra Alpaca.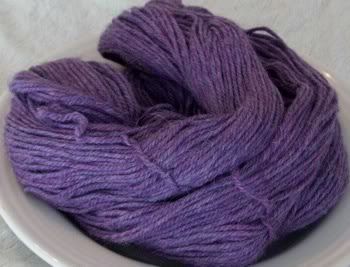 It's an
Elfin Hat
[Ravelry link] from Interweave Knits, Fall '07. It's got this cool spiral lace pattern, and I made the ribbing extra-long so I could double it over and cover my ears with it.
I did this really cool trick with the ribbing. I offset it by two stitches about halfway down, so that it would kind of lock in with itself when I folded it over
I used it to teach myself Magic Loop. It was a bit of a struggle, what with the cable needle seeming to be smarter than me, but I got the hang of it.
It's got a pom-pom on the end. I'm not usually a pom-pom kind of woman, but this hat seemed to call for it, so I made one. I sewed it on the hat sometime this spring, and then I did a big ole happy-dance around the house.
It fit. It was warm. It was purple. It was perfect.
I put it someplace safe. Where it wouldn't get dirty. Someplace where I wouldn't lose it.
Except that the someplace is a little too safe, because now I can't find it. I've looked in the coat closet. I've looked in the pockets of all my coats. I've looked in the stash containers under the bed. I've looked in the shoeboxes in the bedroom closet.
I have this terrible feeling that I'm going to have to clean my house.
Either that, or knit another one. I just know it'll show up if I do that.