So, as promised, here's the public showing of the Candle Flame Shawl I'm working on.
I downloaded the free
pattern
after seeing it in a Knit Picks e-mail, but I didn't care too much for the variegated yarn used in the model. The colors seemed too busy for the lace, not to mention I had just finished up a ginormous feather and fan scarf using nearly the same colors.
I wanted to make it for my mother, so I dragged her over to my computer, plunked her down in front of the Knit Picks site and had her pick out the yarn. After much dithering (which is a family characteristic, by the way), she settled on
Alpaca Cloud
in Iris Heather:
Hmmm… I was just about to go into my usual song and dance about fighting my camera and how the colors are a little more one thing and a lot less another, but it appears that the lighting gods were smiling on me… this is actually what the yarn looks like.
This is just lovely yarn, but the extra-super-itty-bitty-ness of it was seriously intimidating. I stuck it in the stash… for a long time.
When I was finally ready to begin to try the pattern, I busted out some baby yarn I had and practiced on size 8 needles. The first thing I figured out was that there was
no way
I was going to be able to use the chart that was printed on the pattern download. It showed all 80-plus stitches of the pattern, and I kept getting lost. So I re-charted it to show a single repeat, with some off-the-top-of-my-head ways to remember that the edges were worked slightly differently.
This worked much better, although my husband had some tense moments sitting next to me on the couch while I practiced two skills: lace knitting and throwing lace knitting across the room. I'm not sure he appreciates just how important the latter is to the former…
Finally I wound a skein of the project yarn into a ball, took a deep breath and re-read the first line on the pattern
Cast on 92 stitches.
That took three tries and about an hour…
Knit 18 rows of garter stitch.
That took a couple of evenings, including frogging and starting over…
Eventually I got the hang of the tiny yarn, figured out how often I needed lifelines (every twelve rows, I'm paranoid) and bought some lobster-claw clasps to use as stitch markers. I've gotten more confident and I've made decent progress.
Here's what the shawl looks like today, with about four pattern repeats completed, and with a few lifelines in place.
As I was laying it out for these shots, I fell in love with the yarn all over again. It's very soft, 100% baby alpaca, and it's fairly forgiving about being ripped back occasionally. What's not to love, especially when it does this?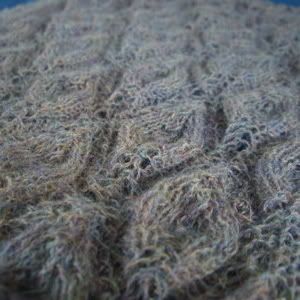 Here's my goal:
Our local symphony's season opening is on 18 September. One of the pieces they're performing that night is Stravinsky's Firebird Suite, which is very appropriate for this project. I want this shawl knit, blocked and presented to my mother so she can wear it to that show.
I can do this. Wanna watch?