Despite the fact that I woke up to snow (!) this morning, it really is springtime where I live.
My husband and I went for a 200 mile motorcycle ride last weekend, and not only was the scenery incredible, but the scents in the air were amazing as well.
Things are bursting into bloom, and I thought I'd share some of it with you (with apologies to anyone with a slow-ish connection, there are a ton of pictures this time...)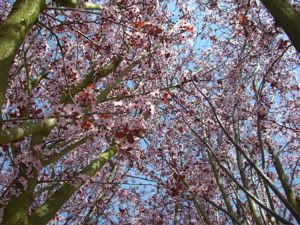 This is the ornamental plum out front of our house. These trees are everywhere in the neighborhood; when the wind blows there are drifts of pale pink petals all over the place. It may not be the cherry blossoms in Japan, but it's one of the first signs of spring we get, and I love it.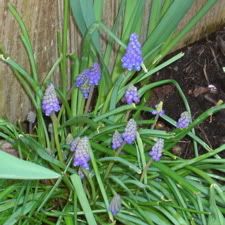 Then come the Grape Hyacinths. They're incredibly hardy, blooming early and sticking around for a very long time. They'll grow anywhere... which may not be a good thing for everybody. If you're a gardener who wants plants to stay where they're put, I would recommend putting this in pots and keeping a sharp eye out for colonists.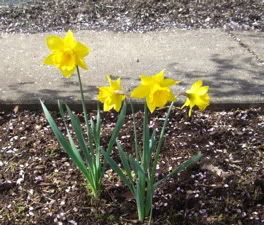 And of course the daffodils. They come around the same time as the hyacinth, often punching up through very cold soil as if it weren't really all that bad. They give me hope.
My friend
Anna
loves tulips, so the rest of this post is especially dedicated to her: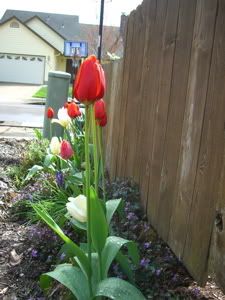 Here they are, marching along the fence in the front yard. The tiny purple flowers at their feet are wild violets, another plant which never met a patch of dirt it didn't like.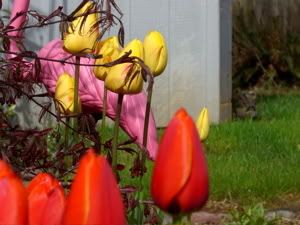 Yes, my house is on the migratory route of the plastic pink flamingo. My mother, bless her, snuck a mating pair of them into my back yard one day while I was at work. They seem to have taken up permanent residence. What's a girl to do?
I have red tulips...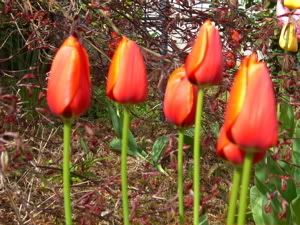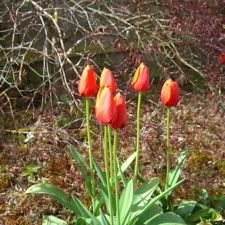 And yellow tulips...
And pink tulips...
...and they all make me think of Anna.