So, here's another project from last year.
My friends announced that they were having a baby, and it produced a flurry of excitement amongst all of the crafty folk. You know how we are... I started out with the idea that I might make an entire wardrobe for the newcomer. A bonnet, some soakers, sweaters, booties, blankets in various weights and sizes.
Then I came to my senses. Pregnancies only last for nine months, and the wish-list of projects I had in mind could conceivably keep me busy until the baby filed for Social Security. I settled on one of the old standbys: a crib blanket.
I consulted with a mutual friend, who reminded me that the mom-to-be likes bright colors. Bright contrasting colors. No pastels, no traditional "baby" colors. Right then, a bright contrasting crib blanket it would be!
Once I had the pattern picked out I went off to the craft store looking for yarn, and I found these:
Bright and contrasting, oh my yes! I didn't need sunglasses, but that may be because I knitted it in the fall!
Here it is about 1/3 complete:
I really liked they way that the contrasting colors from both yarns kind of pool together and move through the blanket. The pattern is a very simple one. Garter stitch borders and slip stitches to make the checkerboard effect.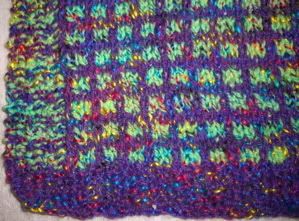 And here it is all done, being modeled by my faithful bear for perspective:
He's wearing a handknit sweater... but that's another post.