You know, considering my blissfully child-free state, it seems as though I do quite a bit of baby knitting. I blame my co-workers. In an agency with a 95% female workforce, at least one of them is expecting every year.
When our latest mom-to-be found out, to her delight, that she was having a girl, she asked for something in pink and brown, which apparently is what all the cool girls are wearing this year. And so off to the yarn store I went, where I found the perfect shades in
Dream in Color Classy
.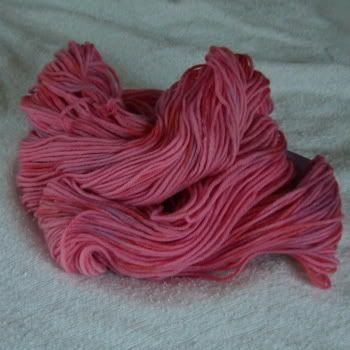 Cool Fire
November Muse
Then I procrastinated for a couple months, because that's just the way I am. Please see a previous post relating to deadlines and my antipathy for them. I did finally cast on for that perennial favorite, Elizabeth Zimmerman's Baby Surprise Jacket. I worked out a rough idea of a stripe pattern, which I only ignored at a couple crucial points.
This pattern is a wonder, truly it is. When I knit my first one I spent quite a bit of time convinced that it was just some joke perpetuated on unwary knitters by more experienced ones.
Honestly, does this look like a half-finished baby jacket to you?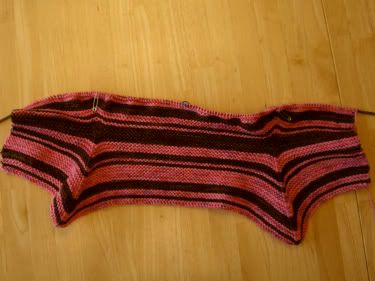 Didn't think so. I'm not sure exactly what it
does
look like, but it doesn't resemble a baby jacket…
But, as EZ advised in the pattern, I pressed on. Mitered decreases, cuff fullness increases, mitered increases, more increases, several ridges worked plain across the center… I just kept knitting.
After the bind-off, I was presented with this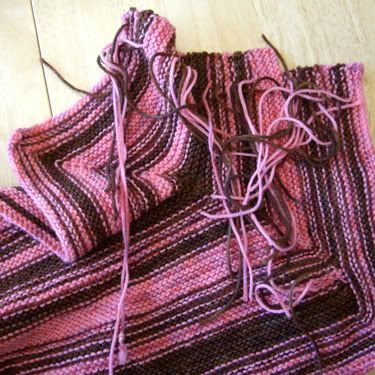 Shag Carpet?
That's a lot of ends to weave in. A lot a lot. I hereby resolve that my next Baby Surprise will be knit in a single color.
I finished the weaving on Wednesday afternoon, and then I threw myself on my mother's mercy. The baby shower was the next afternoon, and I offered her all kinds of gratitude if she could maybe-possibly-perhaps-please-
please
-
please
get buttons on it in time. I'm pretty sure I mentioned homemade chocolate chip cookies and the baking of them. She rolled her eyes and said she'd see what she could do.
My mom…
matchy matchy
...she rocks.
The jacket was hand delivered Thursday morning, which meant I didn't have to go to the shower empty-handed and offering promises and apologies. The shower was a really good time, with cheese, crackers, fruit and two kinds of cookies. You've never seen so much pink in your life, or heard so many expressions of good will and laughter.
I think she likes it.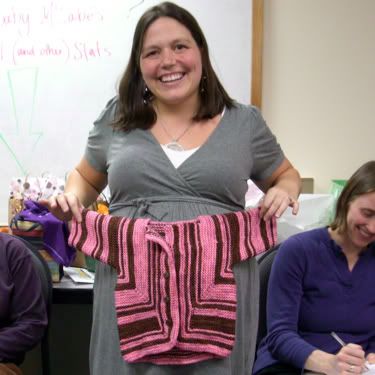 Is it wrong to be so thrilled that it was the only gift that got passed around the room?
Project Details:
Baby Surprise Jacket by Elizabeth Zimmerman
Yarn: Dream in Color Classy in Cool Fire and November Muse
Needles: US 7 (4.5 cm)
Size: 19.5 in (49.5 cm) cuff to cuff
Dates: 1 - 18 February