I'm working on another sweater, Véronik Avery's
Notre Dame de Grace
(Ravelry link) from Interweave Knits.
I'm using the 1824 Wool I bought on my birthday road trip, which I must say is a joy to work with.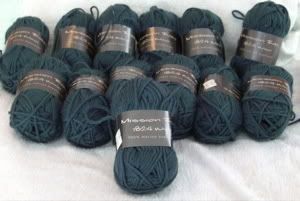 It's soft and luscious and easy to knit. It's even softer knitted up that it is on the ball.
I was cruising along on the sleeves, working the selvedge stitches, getting the increases in all the right places. I was on fire. I was going to set some kind of personal record with this pattern.
And then...
And then, when I was 110 rows into the sleeves, just about to start the decreases, I draped one of them over my arm and realized... I was making the pattern a size too large. It was going to be too big, and I might even run out of yarn.
I knew what I had to do. The sleeves had to be frogged and re-knit. I admitted it. I accepted it.
I put it off for two weeks.
Last Sunday I finally frogged them, reballed the yarn and started over again.
Sleeves (make two)


Cast on 38 stitches. Work set-up row, then work double moss stitch until work measures 1 inch from cast-on edge...
I'm on row 25 now. I may not be setting a personal speed record for this project, but at least the finished project will fit me when I'm done.