I actually got the stole done in time for the Ravelympics deadline. In fact, I got it done early, on Friday 22 August, because my husband and I were going out of town for the weekend.
I had a few bad moments when I realized that despite my best efforts at binding off loosely, I wasn't managing to do it. My bind off had no give to it whatsoever, and I was afraid I was going to end up with an overgrown scarf instead of a stole. It took me the better part of an hour to undo the bid off and get all the stitches back on the needle. Then I switched to US6 tips, and conducted what has to be the loosest, sloppiest bind-off I've ever made.
I was reasonably certain that it would block well, so I tried not to be too concerned with how it looked fresh off the needles.
In fact, I kind of liked it.
I spread it out on the floor, just to try to see the scope of it. If you click to make this photo bigger, you can see a lifeline just to the right of center. That's the lifeline I ripped back to after the beer incident. I still have a hard time comprehending that I actually knit that much in that period of time.
210 rows... That's a lot of lace!
I draped it artfully over my husbands broken foot.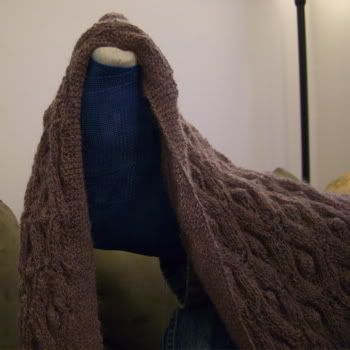 It didn't seem to make him feel any better, which was a surprise to me. How could you not feel better wearing baby alpaca?
Time for the bath.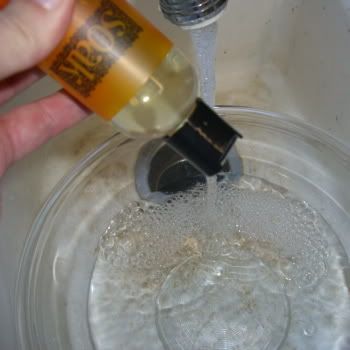 Time for a beer.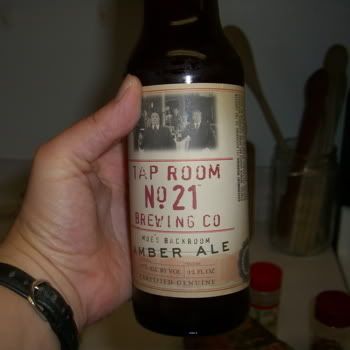 I let it sit while I had some supper, and then hauled it gently out of the water.
I crawled around on the floor for quite a while, adjusting pins and checking measurements with a yardstick. Finally, I was happy with it.
I still have a hard time believing that I made something so lovely and delicate.
Even though this lace is destined to live with my mother, I couldn't resist trying it on.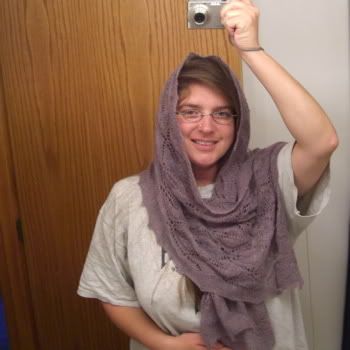 There are things I would do differently if I were to start this project again, but I'm doing my best to stop counting the flaws in my work so often. Especially for this project, I want to take the time to appreciate the things I learned while I was making it.
Mom, your stole's ready in time for the symphony. I hope you like it.