I knit lots of baby things. You all know this. Mostly sweaters, with the occasional hat and a couple pairs of booties thrown in.
Every baby should have something hand-made to grow into. Something made with them in mind. Something full of hope and promise.
Pretty buttons are good, and so is lace. If you can work them both into a single garment, you're golden.
My darling Paddington bear gets lots of face-time here. He's the only thing in the house that is vaguely baby-shaped, and he's just as cute as can be.
He does have one small drawback, however, which I believe I've mentioned. He's got no shoulders.
So I'm always delighted to get e-mail attachments like this one: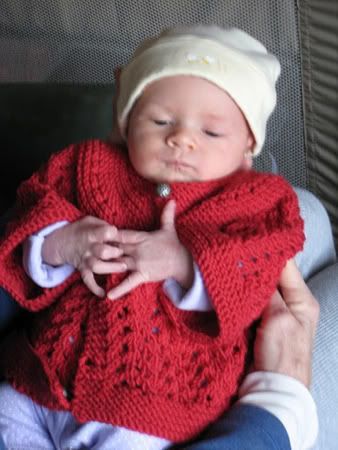 That's the February Baby Sweater I gave away in
January
, being shown off to great effect by its new owner. Will you just look at the shoulders on that wee girl! Not to mention those long elegant fingers.
What a beauty.
Just in case the feelings get lost in my sarcasm, pictures like that are why I knit for the babies around me.