Blocking, that is.
I knit a piece of lace. Knit and knit and knit and knit. I'll spread it out over my knee or on a table, trying to see what it will look like when it's done. I get hints, I have dreams and visions, but trying to picture the whole completed piece just eludes me most of the time.
So, Wisteria Garden was all done and looking like a
skate
(thanks for the image,
KnitGeekery
!). I gave it a nice long bath in lukewarm water, wrapped it up in a towel and had my husband stomp the excess water out of it (this is his favorite part).
We hunkered down on the floor and threaded the blocking wires through the edges. Then we smoothed and stretched and pinned and fussed and measured and stretched some more.
And then finally there it was, the vision I'd been trying to conjure:
All the wobbly stitches smoothed out, the yarn-overs aligned themselves, and any resemblance to a sea life just disappeared.
The border, which seemed tedious when I started it, really ties things together.
Everything seems to grow out of the center stitch, which marches bravely along from the point to the neck.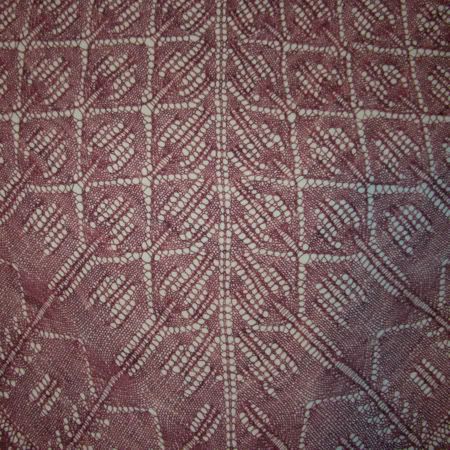 It looks nothing like a skate now. It looks like a shawl.
It's magic, and it never gets old.
Project Details:
Pattern: Wisteria Garden Shawl, by
Amy Swenson
Yarn:
Zen Yarn Garden
Sea Lace, colorway Tyrian, nearly 1200 yards
Needles: US 2 (2.75 mm) for the knitting, US 0 (2.0 mm) for disaster recovery
Final Size: 70 inches along the long edge, 36 inches along the center line.