No problem.
Piece of cake.
Never a doubt in my mind.
Well, except for a terrifying 45 minutes on Sunday afternoon.
I was shifting around on the couch, and the shawl got wedged under my knee. Somehow I managed to pull the whole thing off of the needles. Don't ask me how I got it all back on, the whole incident is a bit of a blur. Let's hear it for 2.0 mm needles and crochet hooks. And for the large Scotch I calmed my nerves with when it was all back in place.
Tragedy averted, Wisteria Garden is done in plenty of time, with a week to spare before the press arrives!
After lunch on Tuesday: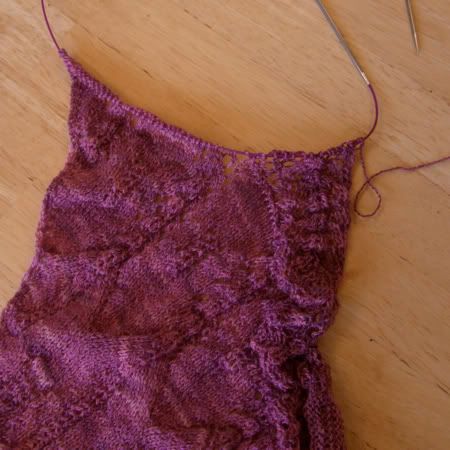 After dinner on Tuesday:
Needs blocking, no?