Nope, not Christmas knitting, or Christmas decorations. No holly or evergreen wreaths with red ribbons.
There are two things you can be certain of as a reader of this blog.
There will be lace projects, because I can't seem to keep away from the lovely stuff.
There will be baby knitting, because the women in my life keep reproducing.
And sometimes I will combine the two.
First, for the Red Thing:
The timeless Baby Sweater on Two Needles, also known as the February Baby Sweater, by Elizabeth Zimmerman.
I've deviated from the pattern in a few places, but I don't think that EZ would mind. After all, she was forever discouraging people from being blind followers, wasn't she? I made eyelets for the second set of increases, just to start the lace idea a little sooner and to keep the garter-stitch tedium at bay. I also cast on extra stitches under the arms when I was putting the sleeves on waste yarn. I'll be picking up into those stitches when I start the arms and knitting them in the round rather than back and forth.
I'm quite pleased with the way this is turning out, and I'm completely in love with the
Crystal Palace Merino 5
I'm working with. It's a super-wash merino, and just about the bounciest stuff you've ever seen in your life. Great stitch definition and a lovely hand to the fabric.
And now for the Green Thing:
Helena
by
Alison Green Will
.
Kind of a cardigan, kind of a dress… it may have a bit of an identity crisis, but it sure is pretty!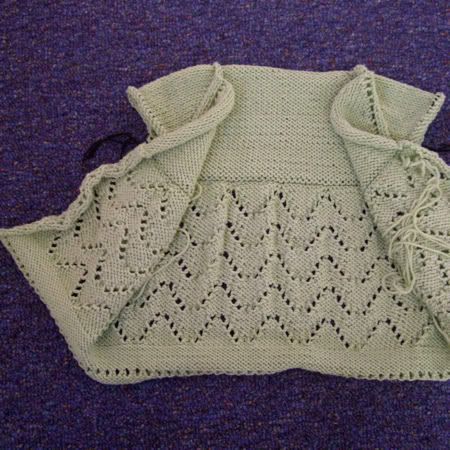 Even on the inside, with all those long ends to be taken care of.
The yarn is
Debbie Bliss Prima
and oh goodness is it ever lovely. It's got this lovely shimmer to it, which simply
refuses
to photograph properly, and the drape is everything you'd expect from an 80/20 Bamboo/Merino blend.
I'm thinking that if I settle in on the couch for a few evenings I can get both of these done soon… always assuming I can tear myself away from The Big Red Blob.