One of my co-workers came to me on Friday with a question of earth-shaking proportions.
"Where does one go to learn how to knit?"
After I got finished with my delighted hand clapping, I pointed him towards the videos at
Knitting Help
. I also told him about the two LYS in town, and also mentioned my Monday night group, assuring him that any or all of us would love to teach him.
Unable to let it rest at that, I swung by my favorite LYS on my lunch break. I picked him up a ball of Plymouth Encore and a pair of US 8 needles. I dropped the bag off at his desk, saying "First taste is on the house. Enjoy it."
He stopped by this morning to show off.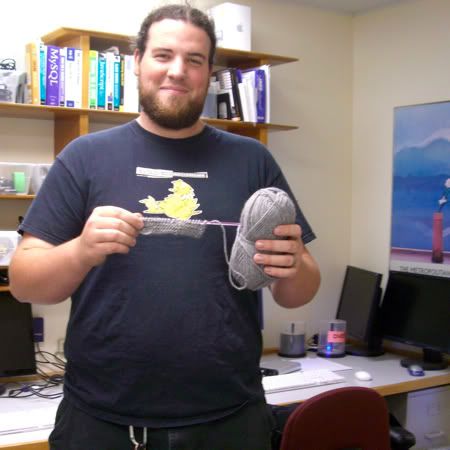 There are about 7 rows of garter stitch there.
His stitches were tight, which is par for the course with new knitters. He was also wrapping his yarn the wrong way, but we got that figured out right quick.
A new knitter, I'm so proud I could just burst!