Ah,
Black Sheep Gathering
, how I adore it. I look forward to it every year; honestly, it's better than Christmas and
nearly
as good as my birthday.
There are so many things to see, so many incredible colors and textures, so many people and so much laughter. It's a great place to meet people, especially if you play
Black Sheep Bingo
. I've played as both a player and a square for the past two years, and even though I've never gotten a bingo on my card, getting the chance to connect with so many people is great fun, not to mention a very good exercise for an introvert. I feel a little bad about forgetting to put their button on my blog this year, but I resolve to do better next year!
I spent quite a bit of time in the livestock barns this year, meeting lots of fiber on the hoof and telling all the animals how beautiful they are. I mean really, how can you look at a pen full of baby angora goats and not have your heart melt?
Not that the adults give anything away in the cuteness department…
This sign in the
SuDan Farm
area made me smile.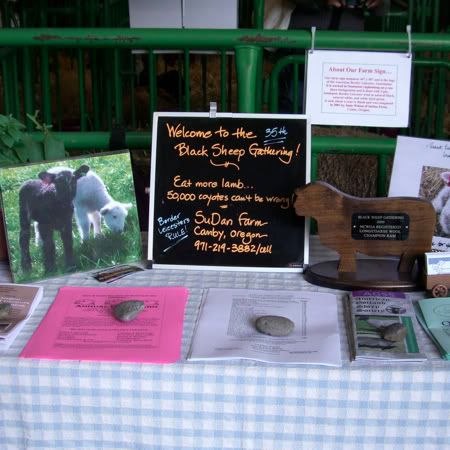 These wee babies are just a week old and were some of the stars of the barn.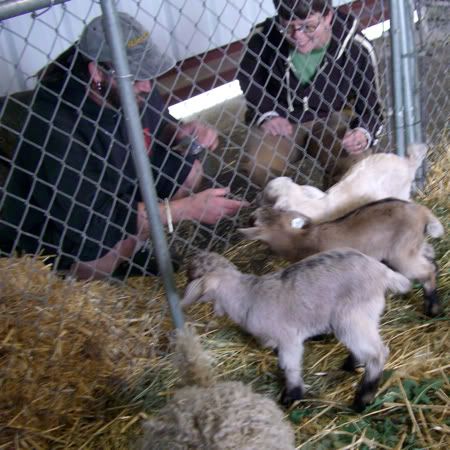 They're dairy kids who were brought to the show because they were being bottle-fed… I really wanted to take one home with me; I just couldn't come up with a way to convince my husband it was a good idea.
On Sunday I got a chance to get up close and personal with the winners in the Fiber Arts Show. Goodness, all the creativity and skill on display were inspiring.
This is one of my particular favorites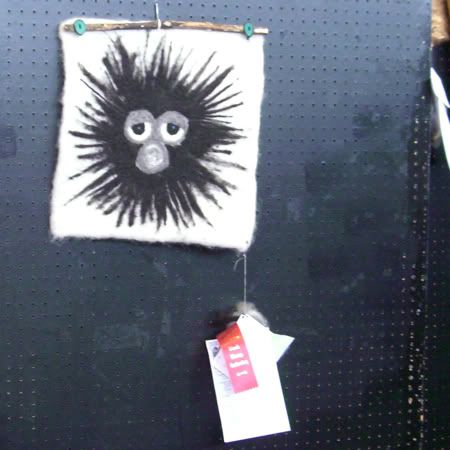 I swear my hair looks just like that some mornings… it's uncanny how the artist knew that!
The Black Sheep Cup is given to the best overall entry in the adult divisions, and this year's winner just knocked me out.
Back
Side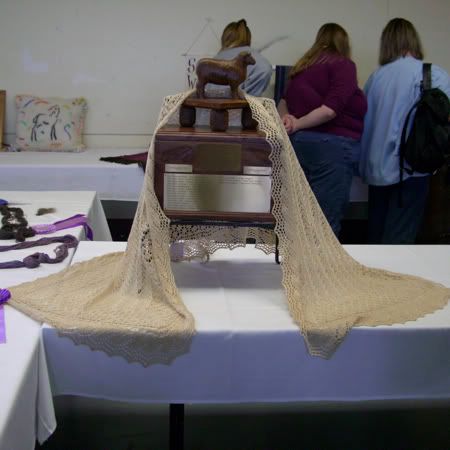 Front
That's 2-ply handspun silk, knitted up into a shawl designed by the crafter. It's got the most amazing drape and shine, and the attention to detail is astonishing.
For just a few minutes I felt inadequate for using machine-milled yarn and other people's patterns for my projects. Then I reminded myself that four years ago I didn't know a yarn-over from a hole in the wall, and I felt better.
It was a marvelous three days, and I'm looking forward to doing it all again next year, even though it took me a few days to recover from the sensory overload.
If you find yourself in this part of the world next June, I would strongly recommend you come see it all for yourself, and look me up in the process. I'll be the one with the camera in my hand and two shopping bags over my shoulders. I'll be sporting a goofy grin, and I'll be babbling about all the wonderful yarn and all the beautiful animals. I shouldn't be hard to spot at all.
Next Up: Show-And-Tell of what followed me home from Black Sheep Gathering. Even though I didn't bring home a dairy kid, I still got some amazing things!