I bound off the first half of my Ancient Woodlands shawl at my knitting group last Monday, and it felt like I had passed a major milestone. It got passed around the table to much ooooh-ing and aaaah-ing, and I had to keep a sharp eye on one of my friends who would very much like to have it for her own.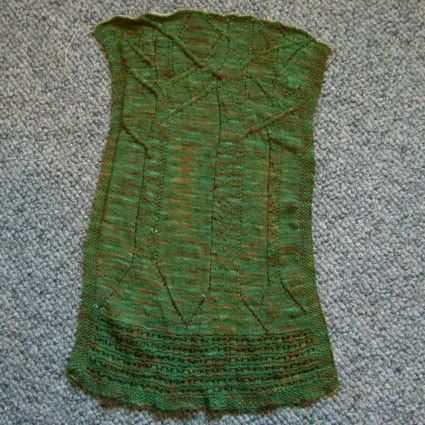 It was nice to spread it out over the table, run my hands over it and just marvel that I'm actually making it with my own hands.
Then it was time to contemplate the next step, unzipping the crochet cast-on and getting the loops back on the needles so I could repeat the pattern in the other direction.
Armed with my US 0's (2 mm) I did the deep breathing thing for a few minutes and got to work.
Slide the needle into a few stitches
And gently unravel the crochet cotton
Again and again and again.
Then I did a certain amount of counting and head scratching. 113 stitches? That can't be right; I've been mentally counting to 114 for weeks now. Do it again… 111, 112, 113… drat.
Then a snippet of knitterly lore swam up from where it had been hiding, deep in the recesses of the portion of my brain known as I've Read About This Somewhere.
I remembered that if you're going to be taking a provisional cast-on out and knitting in the other direction, you need to cast on one extra stitch and then decrease it away in the first row. That way you'll end up with the correct number of loops, instead of being presented with the need to do an increase after taking out the provisional.
I'll admit it here… I fudged it. And you know what? I can't find it anymore.
Since then I've been pretty much obsessed with this shawl. I finished nearly half of the first chart over the weekend, and I'm up to the 51st row as of this picture.
Who knows, I might even stand a decent chance of finishing this one before the next shipment arrives!