I like to swatch, really I do. It's not only useful for getting the right gauge, but it gives me a chance to get to know the yarn. Is it splitty? fragile? underspun? overspun? should I use wood needles or nickel? does it leave dye on my hands? These are all things I would rather have the answers to before I start my projects.
The Ancient Woodland Shawl suggests using US 4's (3.5 mm), but if there is one thing I have learned about myself, it's that
I knit loose
. So I went straight for a set of US 3's (3.25 mm) when I started my swatch. I cast on 48 stitches (twice as many as needed, because I'm just strange that way) and started knitting.
I promptly fell in love with the Helen's Lace… what a joy this is going to be to work with! It feels wonderful sliding through my fingers, and the silk just shines and shimmers.
When I had knitted 52 rows, I bound off as loosely as possible so I'd have plenty of leeway to stretch the piece. Pinned out flat, it measured about six inches square.
Then I gave it a soak in some
Soak
and a spin in my salad spinner. At this point it looked like a very pretty green and brown drowned rat.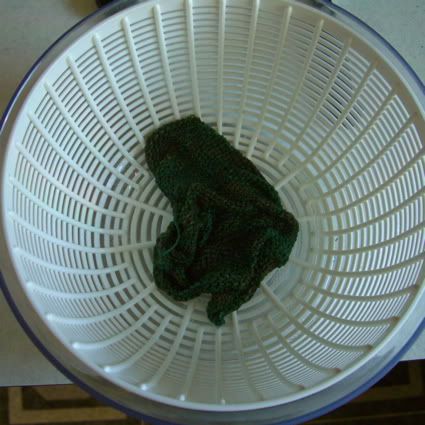 It looks much nicer draped across my hand.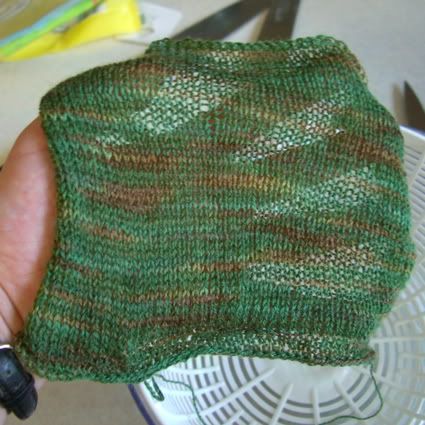 Then I threaded some blocking wires through it and laid it out on the towel.
After that was the really fun bit… stretching the knitting out and showing it who's boss. This entailed a certain amount of hissing and muttering, as well as crawling around on the floor with my backside up in the air. Lucky for me, my husband was busy watching hockey in the front room and there are no pictures.
Final result: and eight-inch square of a nice even fabric.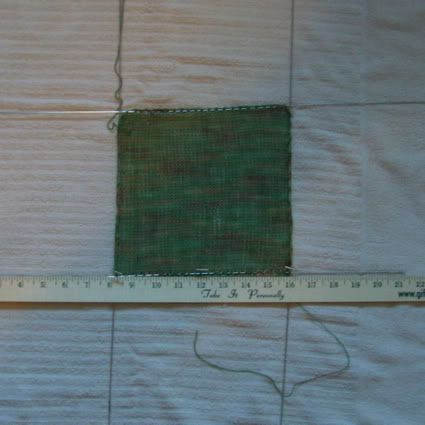 This is going to make a wonderful backdrop for the cables and yarn-overs of my shawl… and once again I'm at work and not knitting.