We knitters know how to best express our love for the people in our lives. We cover them in hand knits to keep them warm. It's certainly one of the best ways
I've
ever found to show my love.
And heaven knows, I do love my mother. She's been an inspiration to me for as long as I can remember, a cheerleader and butt-kicker extraordinaire, someone I look up to and emulate, as well as someone who will dry my tears and tell me everything is going to be all right... eventually.
And so I knit for her. Quite often, in fact!
My latest expression of knitterly love is a pair of Fiber Trends Felted Clogs, in yarn colors of her choice. These clogs are one of those perennial favorites, everybody seems to have made them. A look at the pattern page on Ravelry shows a staggering 3665 pairs, in all the colors of the rainbow in every kind of feltable yarn on the planet.
The construction is pure inspired genius, utilizing short rows and decreases and great big needles. They knit up quickly and felting them is quite a bit of fun.
Mom picked out the yarn for these herself, so I knew the colors would suit her.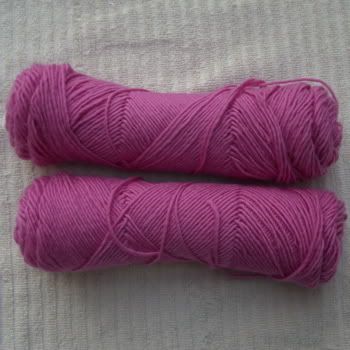 We have a tradition of mismatched footwear in my family, inspired by a series of picture books I was addicted to when I was young. There was a little witch named Dorrie, whose room was a complete disaster area. Her hat was always crooked and her socks never matched. I wore mismatched "Dorrie-socks" for years, tossing the contents of my sock drawer like salad and yanking out the first two socks which came to hand in the morning.
In keeping with tradition, I knit mom's clogs as mirror images of each other, pink uppers on one and green uppers on the other. Here's an obligatory picture of the unfelted pair, showing mom's little feet next to her great big clogs.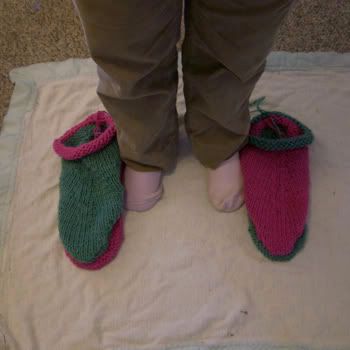 They look like clown shoes.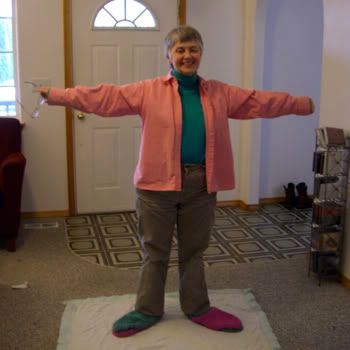 And when I said to her, "Just wave one of 'em around in the air" she nearly fell over in a heap.
Then into the washer with them, each in a pillow protector bag, with an old pair of jeans for added friction. 20-30 minutes later, the combination of hot water and agitation had performed the magic. They felted down so tight I couldn't make out the stitches any more, and they fit like... I was going to say gloves, but let's say they fit like footwear.
She was so happy with them that she broke into song.
This picture makes me grin every time I see it, I can't help it.
Stay warm, mom. And try to be careful on your hardwood floors!
Project Details:
Pattern:
Fiber Trends Felted Clogs
(AC-33) by Bev Galeskas
Size: Medium
Yarn:
Brown Sheep Lamb's Pride Worsted
in Seafoam and RPM Pink, approximately 300 yards each
Needles: US 13 (9 mm)
Time: October-December 2008 (I'm blaming chronic distraction for that)
I hope that everyone has a safe and happy 2009. I gave up on resolutions a long time ago, except for the one I try to keep as my mantra: This year I want to smile more and frown less.
From the Comments:
Karen, the yarn for the socks in the last post is
Knit Picks Essential
in Jester Multi. Very very soft!