That's my life in a nutshell, at least the knitting side of it.
I'm still working on Mystery Stole 4, with about six rows to go on Clue 3. I had to rip out about 19 rows of one of the sides due to multiple dropped stitches followed by complete brain lock. It's slowed me down quite a bit, but I think I'm getting back into the groove on it.
Bells
is hosting a very casual Lace-Along called A Long Lacy Summer. Before you point out to me that it is, in fact, Fall,
I
will point out to
you
that the world is, in fact,
round
. This means that in Australia, where Bells blogs to us, it's actually Spring. She's dedicated a sidebar on her blog for folks who are participating, and I'd encourage you to check them all out. It's a great way to find new bloggers, and there's sure to be some lovely stuff produced in the coming months.
A few (several?) months ago, I counted up all my lace-weight. I came up with approximately six-and-a-half miles, which just boggled my mind.
Well, I've gone and done it again. Anybody care to take a guess how much lace-weight I've got now?
Anybody?
Anybody?
Beuller? (Sorry, bad '80's joke, I couldn't resist)
Just under thirteen miles.
As I wrote the
last
time I did this "clearly, I am obsessed."
Having faced this fact, and wanting to produce a goodly amount of lace to represent the northern hemisphere in A Long Lacy Summer, I did what any sane knitter would do.
I went to the yarn store and bought worsted weight for some new projects.
Oh, stop that snickering… you've done something similar and you know it!
I got two skeins of
Noro Silk Garden
:
Color 267
Color 8
and four skeins of
Brown Sheep Lamb's Pride
.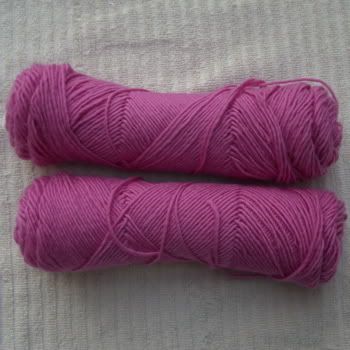 RPM Pink
Seafoam
The Silk Garden is slated to become Jared Flood's
Turn-A-Square
hat for my stepfather. I started it on Sunday, but I'm pretty sure I'm going to rip it and start over, for several reasons. I'm not convinced that a mere one inch of ribbing is enough, the join into the round is en eyesore, and I'm pretty sure I messed up on the increases. Three strikes, you're frogged.
The Lamb's Pride is to make a pair of
Fiber Trend's Felted Clogs
for my mother. Since I haven't started them yet, I've not had a chance to mess them up. Yet.
There's also a pair of socks on the go, which I have been trying on approximately every five rounds. To ensure that they fit my actual feet, you understand, and not the feet of
someone else
. I should be working the toes soon, and I really ought to get some photos of them.
See what I mean? I'm all over the place.
Oh yeah, and to Kate, who correctly guessed the yarn from my autumnal walk last week,
Dream in Color Smooshy
in Butter Peeps… either you work for Dream in Color, or you stalked my Ravelry stash! Nice call!