OK, maybe that's kind of a cheap title, considering the content, but the heat around here is frying all my brain cells, so you'll have to forgive me.
So, surprises…
Surprise number one:
I received a package in the mail the other day from
Brat Knits
. She'd had a contest in her blog, giving away home-made soap, and I lucked out.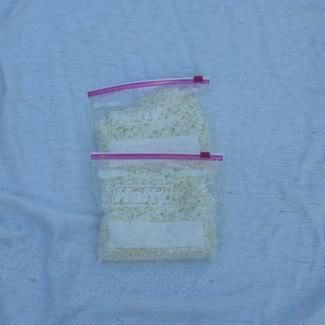 Hand-made tallow-based soap with tea tree oil in it. My laundry room has never smelled so good… it almost makes me want to scrub my counters. Almost.
Thank you, it's fabulous!
The other surprises are of the baby jacket variety. My sister-in-law is due with her second daughter any second now, and in keeping with my tradition of leaving things until the very last possible second, I sent her two of the Elizabeth Zimmerman Baby Surprise Jackets today.
Jacket number one was knit with Regia's Kaffe Fassett sock yarn, on US 2's.
It measures 11.5 inches from cuff to cuff, and is 8 inches from top to bottom. Definatley new-born size.
Jacket number two was knit with Plymouth Jelli Beenze on US 6's.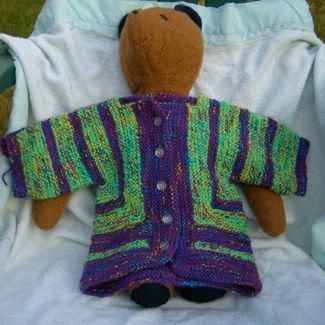 It measures 18.5 inches from cuff to cuff and is 11.5 inches from top to bottom. Toddler sized, a jacket for the baby to grow into.
Both of these jackets have the same number of rows and stitches in them, but the size difference tickles me to death for some reason. Not to mention that the garter-stitch squishiness is lovely.
I'm not the only one who's been working on things for the new baby. My mother sews and quilts (she put the buttons on the sweaters, a task I seem to fail utterly at), and she put together this fabulous quilt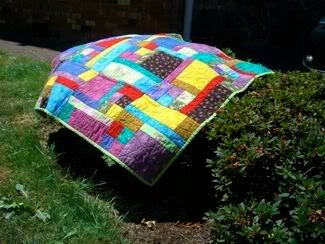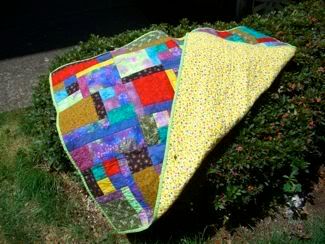 No pastels from this side of the family, no way!
I gave her my swatch of the Regia yarn, and she took it with her to the store when she bought fabric for the quilt. I think she did a beautiful job putting the colors together, and the woman at the store had never seen someone trying to match yarn colors with fabrics.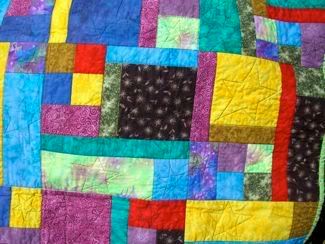 She cut her own stencils for the stars, and then machine-quilted them.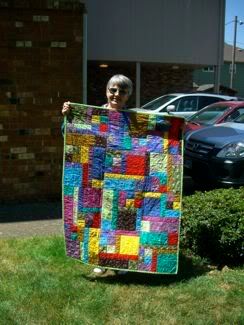 After the baby is born, Mom will embroider her full name and birthdate into the back, along with a dedication.
I'm so impressed with quilters. Really, I'm only safe around knitting needles and blunt darning needles. I tend to poke myself with sewing needles, and I'd probably sew my fingers together if I tried to use a sewing machine.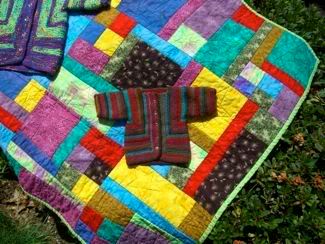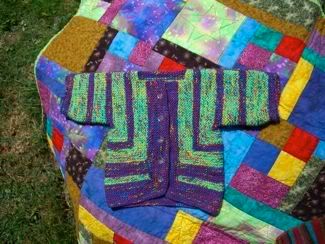 I must say, though, that Mom and and make excellent collaborators!
I just hope the jackets arrive at their destination before the baby does… do you think I should have sent them overnight?