Wow, I make a blog post about not posting, and the next thing I know I've missed an entire month! I really need to have a little more discipline abut this. I enjoy blogging, although you couldn't really tell by the state of my blog just now.
I'll try to be a better blogger. My 3-4 faithful readers deserve better from me!
There's been a baby boom at my office. One born in October, another born in November, and another on the way in about 3-4 months. Babies mean baby knitting, which is terribly fun and pretty quick.
The first two babies got pairs of
Tulip Toes
. They're beyond cute, and they're quick to knit once you get the hang of them. I must admit, though, that I made a tactical error in taking on the knitting of two identical pairs of booties in rapid succession. I've got two petals to go on the fourth bootie, and I'm bored to tears. With any luck at all I'll get them done and blocked this week.
Here's a few looks of the first pair:
Here's the very first one, with a quarter to show you how little it really is.
The first completed pair, blocked out and ready to go.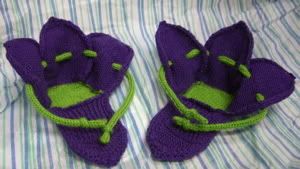 With the i-cord threaded through the eyelets.

Are baby feet really this flat?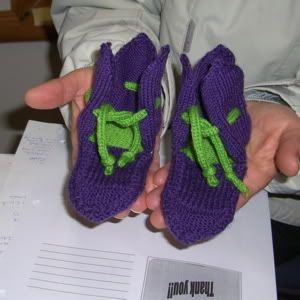 One of my co-directors loaned me her hands for perspective, although she protested that she has tiny hands.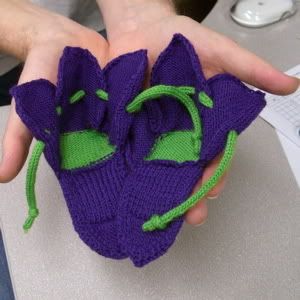 So, I moved on to my office-mate, who has bigger hands!
These really are quite darling, and I may just make some more... but not for a good long while. The other expectant mom is getting a pair of
Saartje's Booties
!