The Knitting Help Forum is down for an upgrade... I'm going into withdrawal.
So, how do I entertain myself as I drink my coffee this morning? I mean other than folding the laundry... 'cause that's boring.
I've been spending money lately. It seemed like all the cool kids had a set of
KnitPicks Options
, and I finally managed to convince myself that I couldn't live without them. Considering how long ago these needles were released, I feel I should be commended for my restraint!
I have a digital camera and I'm not afraid to use it!
I like them, they're everything people have been saying. Flexible cables, nice & smooth and slick... I'm in lust!
While I was dithering over which accessories I might need for my Options (some looooong cables for magic loop? Size ID Tags? Maybe some DPN's?) a few hanks of
Gloss
fell into my cart. Beware the yarn pixies, especially when they spy purple yarn!
A friend of mine has opened an Etsy store,
a perfect yarn
, so she can indulge her inner child by playing with dyes. I spotted a hank of sock yarn there was no way I could live without. See how pretty?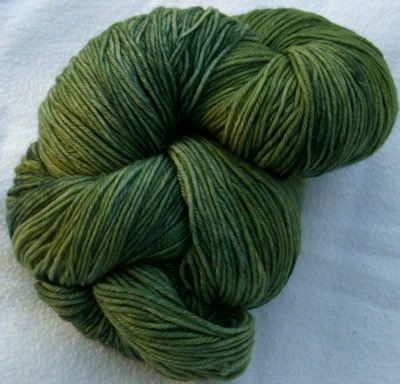 It's superwash, and it's so amazingly soft it makes me want to rub it all over my face and neck and... well, you know! She's got lovely stuff, and she promises the arrival of worsted & DK weight soon. Oh hey, look at that one!